Expandable Polystyrene (EPS): 2013 World Market Outlook and Forecast up to 2017
About

Table of Contents

List of Tables

List of Figures

Related Reports
Expandable polystyrene, or EPS, is used in building and construction, industrial and food packaging and other applications. Most of EPS production plants are concentrated in Asia region, where China alone accounts slightly more than half of total global capacities. There are also three Asian countries of five leading EPS manufacturers – China, South Korea and Taiwan. In next few years it is forecasted that Asia will still bу leading EPS production and consumption region, while other regions will slow its growth rates.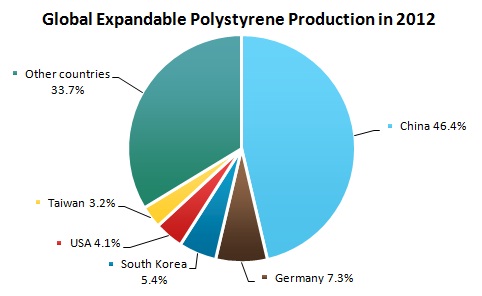 Expandable polystyrene (EPS) 2013 World Market Outlook and Forecast up to 2017 grants access to the unique data on the examined market. Having used a large variety of primary and secondary sources, our research team combined, canvassed and presented all available information on product in an all-encompassing research report clearly and coherently.
The report not only contains a detailed market overview but also offers a rich collection of tables and figures, thus providing an up-close look at country, regional and world markets for product. It also includes a five-year forecast showing how the product market is set to develop.
Monthly Expandable polystyrene (EPS) Market Monitoring
Summarizes key events occurred in expandable polystyrene market worldwide
Covers expandable polystyrene weekly prices by region and supplies with one-year historical background
Monitors activities of expandable polystyrene market players
Issued monthly, available on annual subscription
Report Scope
Geographically expandable polystyrene report covers:
Timeframe of expandable polystyrene report:
Present situation
Historical background
Five-year forecast
Global expandable polystyrene market analysis includes:
Expandable polystyrene capacity
Expandable polystyrene production and consumption
Expandable polystyrene trade statistics
Expandable polystyrene prices
Expandable polystyrene 5-year market forecast
Expandable polystyrene projects
Expandable polystyrene feedstock
A region/country market overview comprises:
Expandable polystyrene capacity
Expandable polystyrene supply/demand balance
Expandable polystyrene prices
Expandable polystyrene export and import
Expandable polystyrene manufacturers and suppliers
Companies Сovered:
Loyal Group, Wuxi Xingda Group, BASF, Ineos Styrenics, Taita Chemical, Ming Dih Group Corp, Jiangsu Nijiaxiang Chemical Co., Ltd., Jiangyin Sunping New Material Co., Ltd, Jiangsu Leasty Chemical Co., Ltd., Synthos SA, StyroChem, Sunpor Kunststoff GmbH, Polioles SA de CV, Polimeri Europa, Sunde Group, NOVA Chemicals Inc. , Thai ABS Co Ltd – (TABS)/ IRPC, Xinjiang Blue Ridge Tunhe Chemical Industry Co., Ltd., Tianjin Jiatai Weiye Chemical Co., Ltd., Flint Hills Resources, Jiangsu Litian New Material Co Ltd, LG, ТОО Sat Operating Aktau, Eastchem A.S., Supreme Petrochem Ltd – (SPL), etc.
Reasons to Buy
The report provides the reader with unrivalled knowledge of the expandable polystyrene market
Unique examination of the expandable polystyrene market in different geographical settings and analysis of global and regional trends influencing the industry assist in the effective business planning
You will push up you company's sales and deepen foothold in the industry by gaining a full understanding of the expandable polystyrene market
Thorough assessment of the competitive environment and in-depth overview of market participants help to understand who stands where on the expandable polystyrene market and identify prospective business partners
Comprehensive expandable polystyrene market forecast will improve the decision-making process
DISCLAIMER
RESEARCH METHODOLOGY
1. INTRODUCTION: EXPANDABLE POLYSTYRENE PROPERTIES AND USES
2. EXPANDABLE POLYSTYRENE MANUFACTURING PROCESSES
3. EXPANDABLE POLYSTYRENE WORLD MARKET
3.1. World expandable polystyrene capacity
- Expandable polystyrene capacity broken down by region
- Expandable polystyrene capacity divided by country
- Expandable polystyrene manufacturers and their capacity by plant
3.2. World expandable polystyrene production
- Expandable polystyrene global output dynamics
- Expandable polystyrene production by region
- Expandable polystyrene production by country
3.3. Expandable polystyrene consumption
- World consumption of expandable polystyrene
- Expandable polystyrene consumption by end-use sector
- Expandable polystyrene consumption trends in Europe
- Expandable polystyrene consumption trends in Asia
- Expandable polystyrene consumption trends in North America
3.4. Expandable polystyrene global trade
- World expandable polystyrene trade dynamics
- Expandable polystyrene export and import flows in regions
3.5. Expandable polystyrene prices in the world market
4. EXPANDABLE POLYSTYRENE REGIONAL MARKETS ANALYSIS
Each country section comprises the following parts:
- Total installed capacity in country
- Production in country
- Manufacturers in country
- Consumption of in country
- Suppliers in country
- Export and import in country
- Prices in country
4.1. Expandable polystyrene European market analysis
Countries covered:
- Austria
- Croatia
- Czech Republic
- Finland
- France
- Germany
- Greece
- Hungary
- Italy
- Netherlands
- Norway
- Poland
- Romania
- Russia
- Spain
- Ukraine
- Belgium
- Sweden
- United Kingdom
- Switzerland
- Denmark
- Belarus
4.2. Expandable polystyrene Asia Pacific market analysis
Countries included:
- China
- India
- Indonesia
- Malaysia
- Pakistan
- South Korea
- Taiwan
- Thailand
- Kazakhstan
- Vietnam
- Singapore
4.3. Expandable polystyrene North American market analysis
Countries under consideration:
- Canada
- USA
4.4. Expandable polystyrene Latin American market analysis
Countries overviewed:
- Argentina
- Brazil
- Chile
- Colombia
- Mexico
- Bahamas
4.5. Expandable polystyrene Middle East market analysis
Countries examined:
- Iran
- Israel
- Turkey
- Tunisia
- Egypt
- Syria
- Algeria
5. EXPANDABLE POLYSTYRENE MARKET PERSPECTIVES
5.1. Expandable polystyrene capacity and production forecast up to 2017
- Global production forecast
- Ongoing projects
5.2. Expandable polystyrene consumption forecast up to 2017
- World consumption forecast
- Forecast of consumption in Europe
- Consumption forecast in Asia
- Consumption forecast in North America
5.3. Expandable polystyrene prices forecast up to 2017
6. KEY COMPANIES IN THE EXPANDABLE POLYSTYRENE MARKET WORLDWIDE
7. EXPANDABLE POLYSTYRENE FEEDSTOCK MARKET
- Expandable polystyrene feedstock capacity worldwide
- Trends in expandable polystyrene feedstock markets globally
- Prices for expandable polystyrene feedstock
Table 1. Typical Properties of EPS Molded Packaging (70F Test Temperature)
Table 2. EPS: Typical Thermal Conductivity (k factor)
Table 3. EPS: Water Absorption and Vapor Transmission
Table 4. Global expandable polystyrene capacity, by region in 2012
Table 5. Expandable polystyrene capacity by country (major capacity holders), 2012
Table 6. Global expandable polystyrene production, 2004-2012
Table 7. Global expandable polystyrene production broken down by region, 2012
Table 8. World expandable polystyrene production, by country in 2012
Table 9. World expandable polystyrene consumption in 2004-2012
Table 10. Global expandable polystyrene consumption broken down by region, 2007-2012
Table 11. Expandable polystyrene global trade, in recent years
Table 12. Expandable polystyrene global trade, by regions, in recent years
Table 13. Expandable polystyrene global trade, by countries, 2012
Table 14. Europe: expandable polystyrene prices in recent years
Table 15. N.E. Asia: expandable polystyrene prices in recent years
Table 16. S.E. Asia: expandable polystyrene prices in recent years
Table 17. North America: block expandable polystyrene prices, in recent years
Table 18. North America: block expandable polystyrene prices, in recent years
Table 19. Total expandable polystyrene capacity in Austria, 2012
Table 20. Austria: expandable polystyrene production in 2007-2012
Table 21. Austria: expandable polystyrene consumption in 2007-2012
Table 22. Import of expandable polystyrene in Austria, in recent years
Table 23. Structure of expandable polystyrene import by country in Austria in recent years
Table 24. Expandable polystyrene prices in Austria, in recent years
Table 25. Total expandable polystyrene capacity in Croatia, 2012
Table 26. Croatia: expandable polystyrene production in 2007-2012
Table 27. Croatia: expandable polystyrene consumption in 2007-2012
Table 28. Export and import of expandable polystyrene in Croatia, in recent years
Table 29. Structure of expandable polystyrene export by country in Croatia in recent years
Table 30. Structure of expandable polystyrene import by country in Croatia in recent years
Table 31. Expandable polystyrene prices in Croatia, 2007-2012
Table 32. Total expandable polystyrene capacity in Czech Republic, 2012
Table 33. Czech Republic: expandable polystyrene production in 2007-2012
Table 34. Czech Republic: expandable polystyrene consumption in 2007-2012
Table 35. Export and import of expandable polystyrene in Czech Republic, in recent years
Table 36. Structure of expandable polystyrene export by country in Czech Republic in in recent years
Table 37. Structure of expandable polystyrene import by country in Czech Republic in recent years
Table 38. Expandable polystyrene prices in Czech Republic, in recent years
Table 39. Total expandable polystyrene capacity in Finland, 2012
Table 40. Finland: expandable polystyrene production in 2007-2012
Table 41. Finland: expandable polystyrene consumption in 2007-2012
Table 42. Export and import of expandable polystyrene in Finland, in recent years
Table 43. Structure of expandable polystyrene export by country in Finland in recent years
Table 44. Structure of expandable polystyrene import by country in Finland in recent years
Table 45. Expandable polystyrene prices in Finland, in recent years
Table 46. Total expandable polystyrene capacity in France, 2012
Table 47. France: expandable polystyrene production in 2007-2012
Table 48. France: expandable polystyrene consumption in 2007-2012
Table 49. Export and import of expandable polystyrene in France, in recent years
Table 50. Structure of expandable polystyrene export by country in France in recent years
Table 51. Structure of expandable polystyrene import by country in France in recent years
Table 52. Expandable polystyrene prices in France, in recent years
Table 53. Total expandable polystyrene capacity in Germany, 2012
Table 54. Germany: expandable polystyrene production in 2007-2012
Table 55. Germany: expandable polystyrene consumption in 2007-2012
Table 56. Export and import of expandable polystyrene in Germany, in recent years
Table 57. Structure of expandable polystyrene export by country in Germany in recent years
Table 58. Structure of expandable polystyrene import by country in Germany in recent years
Table 59. Expandable polystyrene prices in Germany, in recent years
Table 60. Total expandable polystyrene capacity in Greece, 2012
Table 61. Greece: expandable polystyrene production in 2007-2012
Table 62. Greece: expandable polystyrene consumption in 2007-2012
Table 63. Export and import of expandable polystyrene in Greece, in recent years
Table 64. Structure of expandable polystyrene export by country in Greece in recent years
Table 65. Structure of expandable polystyrene import by country in Greece in recent years
Table 66. Expandable polystyrene prices in Greece, in recent years
Table 67. Total expandable polystyrene capacity in Hungary, 2012
Table 68. Hungary: expandable polystyrene production in 2007-2012
Table 69. Hungary: expandable polystyrene consumption in 2007-2012
Table 70. Export and import of expandable polystyrene in Hungary, in recent years
Table 71. Structure of expandable polystyrene export by country in Hungary in recent years
Table 72. Structure of expandable polystyrene import by country in Hungary in recent years
Table 73. Expandable polystyrene prices in Hungary, in recent years
Table 74. Total expandable polystyrene capacity in Italy, 2012
Table 75. Italy: expandable polystyrene production in 2007-2012
Table 76. Italy: expandable polystyrene consumption in 2007-2012
Table 77. Export and import of expandable polystyrene in Italy, in recent years
Table 78. Structure of expandable polystyrene export by country in Italy in recent years
Table 79. Structure of expandable polystyrene import by country in Italy in recent years
Table 80. Expandable polystyrene prices in Italy, in recent years
Table 81. Total expandable polystyrene capacity in Netherlands, 2012
Table 82. Netherlands: expandable polystyrene production in 2007-2012
Table 83. Netherlands: expandable polystyrene consumption in 2007-2012
Table 84. Export and import of expandable polystyrene in Netherlands, in recent years
Table 85. Structure of expandable polystyrene export by country in Netherlands in recent years
Table 86. Structure of expandable polystyrene import by country in Netherlands in recent years
Table 87. Expandable polystyrene prices in Netherlands, in recent years
Table 88. Total expandable polystyrene capacity in Norway, 2012
Table 89. Norway: expandable polystyrene production in 2007-2012
Table 90. Norway: expandable polystyrene consumption in 2007-2012
Table 91. Import of expandable polystyrene in Norway, in recent years
Table 92. Structure of expandable polystyrene import by country in Norway in recent years
Table 93. Expandable polystyrene prices in Norway, in recent years
Table 94. Total expandable polystyrene capacity in Poland, 2012
Table 95. Poland: expandable polystyrene production in 2007-2012
Table 96. Poland: expandable polystyrene consumption in 2007-2012
Table 97. Export and import of expandable polystyrene in Poland, in recent years
Table 98. Structure of expandable polystyrene export by country in Poland in recent years
Table 99. Structure of expandable polystyrene import by country in Poland in recent years
Table 100. Expandable polystyrene prices in Poland, in recent years
Table 101. Total expandable polystyrene capacity in Romania, 2012
Table 102. Romania: expandable polystyrene production in 2007-2012
Table 103. Romania: expandable polystyrene consumption in 2007-2012
Table 104. Export and import of expandable polystyrene in Romania, in recent years
Table 105. Structure of expandable polystyrene export by country in Romania in recent years
Table 106. Structure of expandable polystyrene import by country in Romania in recent years
Table 107. Expandable polystyrene prices in Romania, in recent years
Table 108. Total expandable polystyrene capacity in Russia, 2012
Table 109. Russia: expandable polystyrene production in 2007-2012
Table 110. Russia: expandable polystyrene consumption in 2007-2012
Table 111. Export and import of expandable polystyrene in Russia, in recent years
Table 112. Structure of expandable polystyrene export by country in Russia in recent years
Table 113. Structure of expandable polystyrene import by country in Russia in recent years
Table 114. Expandable polystyrene prices in Russia, in recent years
Table 115. Total expandable polystyrene capacity in Spain, 2012
Table 116. Spain: expandable polystyrene production in 2007-2012
Table 117. Spain: expandable polystyrene consumption in 2007-2012
Table 118. Export and import of expandable polystyrene in Spain, in recent years
Table 119. Structure of expandable polystyrene export by country in Spain in recent years
Table 120. Structure of expandable polystyrene import by country in Spain in recent years
Table 121. Expandable polystyrene prices in Spain, in recent years
Table 122. Total expandable polystyrene capacity in Ukraine, 2012
Table 123. Ukraine: expandable polystyrene production in 2007-2012
Table 124. Ukraine: expandable polystyrene consumption in 2007-2012
Table 125. Export and import of expandable polystyrene in Ukraine, in recent years
Table 126. Structure of expandable polystyrene export by country in Ukraine in recent years
Table 127. Structure of expandable polystyrene import by country in Ukraine in recent years
Table 128. Expandable polystyrene prices in Ukraine, in recent years
Table 129. Total expandable polystyrene capacity in Belgium, 2012
Table 130. Belgium: expandable polystyrene production in 2007-2012
Table 131. Belgium: expandable polystyrene consumption in 2007-2012
Table 132. Export and import of Polystyrene, expansible, in primary forms in Belgium, in recent years
Table 133. Structure of Polystyrene, expansible, in primary forms export by country in Belgium in recent years
Table 134. Structure of Polystyrene, expansible, in primary forms import by country in Belgium in recent years
Table 135. Expandable polystyrene prices in Belgium, in recent years
Table 136. Total expandable polystyrene capacity in Sweden, 2012
Table 137. Sweden: expandable polystyrene production in 2007-2012
Table 138. Sweden: expandable polystyrene consumption in 2007-2012
Table 139. Export and import of Polystyrene, expansible, in primary forms in Sweden, in recent years
Table 140. Structure of Polystyrene, expansible, in primary forms export by country in Sweden in recent years
Table 141. Structure of Polystyrene, expansible, in primary forms import by country in Sweden in recent years
Table 142. Expandable polystyrene prices in Sweden, in recent years
Table 143. United Kingdom: expandable polystyrene consumption in 2007-2012
Table 144. Export and import of Polystyrene, expansible, in primary forms in United Kingdom, in recent years
Table 145. Structure of Polystyrene, expansible, in primary forms export by country in United Kingdom in recent years
Table 146. Structure of Polystyrene, expansible, in primary forms import by country in United Kingdom in recent years
Table 147. Expandable polystyrene prices in United Kingdom, in recent years
Table 148. Switzerland: expandable polystyrene consumption in 2007-2012
Table 149. Export and import of Polystyrene, expansible, in primary forms in Switzerland, in recent years
Table 150. Structure of Polystyrene, expansible, in primary forms export by country in Switzerland in recent years
Table 151. Structure of Polystyrene, expansible, in primary forms import by country in Switzerland in recent years
Table 152. Expandable polystyrene prices in Switzerland, in recent years
Table 153. Total expandable polystyrene capacity in Denmark, 2012
Table 154. Denmark: expandable polystyrene production in 2007-2012
Table 155. Denmark: expandable polystyrene consumption in 2007-2012
Table 156. Export and import of Polystyrene, expansible, in primary forms in Denmark, in recent years
Table 157. Structure of Polystyrene, expansible, in primary forms export by country in Denmark in recent years
Table 158. Structure of Polystyrene, expansible, in primary forms import by country in Denmark in recent years
Table 159. Expandable polystyrene prices in Denmark, in recent years
Table 160. Belarus: expandable polystyrene consumption in 2007-2012
Table 161. Export and import of Polystyrene, expansible, in primary forms in Belarus, in recent years
Table 162. Structure of Polystyrene, expansible, in primary forms export by country in Belarus in recent years
Table 163. Structure of Polystyrene, expansible, in primary forms import by country in Belarus in recent years
Table 164. Expandable polystyrene prices in Belarus, in recent years
Table 165. Total expandable polystyrene capacity in China, 2012
Table 166. China: expandable polystyrene production in 2007-2012
Table 167. China: expandable polystyrene consumption in 2007-2012
Table 168. Export and import of expandable polystyrene in China, in recent years
Table 169. Structure of expandable polystyrene export by country in China in recent years
Table 170. Structure of expandable polystyrene import by country in China in recent years
Table 171. Expandable polystyrene prices in China, in recent years
Table 172. Total expandable polystyrene capacity in India, 2012
Table 173. India: expandable polystyrene production in 2007-2012
Table 174. India: expandable polystyrene consumption in 2007-2012
Table 175. Export and import of expandable polystyrene in India, in recent years
Table 176. Structure of expandable polystyrene export by country in India in recent years
Table 177. Structure of expandable polystyrene import by country in India in recent years
Table 178. Expandable polystyrene prices in India, in recent years
Table 179. Total expandable polystyrene capacity in Indonesia, 2012
Table 180. Indonesia: expandable polystyrene production in 2007-2012
Table 181. Indonesia: expandable polystyrene consumption in 2007-2012
Table 182. Export and import of expandable polystyrene in Indonesia, in recent years
Table 183. Structure of expandable polystyrene export by country in Indonesia in recent years
Table 184. Structure of expandable polystyrene import by country in Indonesia in recent years
Table 185. Expandable polystyrene prices in Indonesia, in recent years
Table 186. Total expandable polystyrene capacity in Malaysia, 2012
Table 187. Malaysia: expandable polystyrene production in 2007-2012
Table 188. Malaysia: expandable polystyrene consumption in 2007-2012
Table 189. Export and import of expandable polystyrene in Malaysia, in recent years
Table 190. Structure of expandable polystyrene export by country in Malaysia in recent years
Table 191. Structure of expandable polystyrene import by country in Malaysia in recent years
Table 192. Expandable polystyrene prices in Malaysia, in recent years
Table 193. Total expandable polystyrene capacity in Pakistan, 2012
Table 194. Pakistan: expandable polystyrene production in 2007-2012
Table 195. Pakistan: expandable polystyrene consumption in 2007-2012
Table 196. Export and import of expandable polystyrene in Pakistan, in recent years
Table 197. Structure of expandable polystyrene export by country in Pakistan in recent years
Table 198. Structure of expandable polystyrene import by country in Pakistan in recent years
Table 199. Expandable polystyrene prices in Pakistan, in recent years
Table 200. Total expandable polystyrene capacity in South Korea, 2012
Table 201. South Korea: expandable polystyrene production in 2007-2012
Table 202. South Korea: expandable polystyrene consumption in 2007-2012
Table 203. Export and import of expandable polystyrene in South Korea, in recent years
Table 204. Structure of expandable polystyrene export by country in South Korea in recent years
Table 205. Structure of expandable polystyrene import by country in South Korea in recent years
Table 206. Expandable polystyrene prices in South Korea, in recent years
Table 207. Total expandable polystyrene capacity in Taiwan, 2012
Table 208. Taiwan: expandable polystyrene production in 2007-2012
Table 209. Total expandable polystyrene capacity in Thailand, 2012
Table 210. Thailand: expandable polystyrene production in 2007-2012
Table 211. Thailand: expandable polystyrene consumption in 2007-2012
Table 212. Export and import of expandable polystyrene in Thailand, in recent years
Table 213. Structure of expandable polystyrene export by country in Thailand in recent years
Table 214. Structure of expandable polystyrene import by country in Thailand in recent years
Table 215. Expandable polystyrene prices in Thailand, in recent years
Table 216. Total expandable polystyrene capacity in Kazakhstan, 2012
Table 217. Kazakhstan: expandable polystyrene production in 2007-2012
Table 218. Kazakhstan: expandable polystyrene consumption in 2007-2012
Table 219. Export and import of expandable polystyrene in Kazakhstan, in recent years
Table 220. Structure of expandable polystyrene export by country in Kazakhstan in recent years
Table 221. Structure of expandable polystyrene import by country in Kazakhstan in recent years
Table 222. Expandable polystyrene prices in Kazakhstan, in recent years
Table 223. Total expandable polystyrene capacity in Vietnam, 2012
Table 224. Vietnam: expandable polystyrene production in 2007-2012
Table 225. Vietnam: expandable polystyrene consumption in 2007-2012
Table 226. Export and import of expandable polystyrene in Vietnam, in recent years
Table 227. Structure of expandable polystyrene export by country in Vietnam in recent years
Table 228. Structure of expandable polystyrene import by country in Vietnam in recent years
Table 229. Expandable polystyrene prices in Vietnam, in recent years
Table 230. Export and import of Polystyrene, expansible, in primary forms in Singapore, in recent years
Table 231. Structure of Polystyrene, expansible, in primary forms export by country in Singapore in recent years
Table 232. Structure of Polystyrene, expansible, in primary forms import by country in Singapore in recent years
Table 233. Expandable polystyrene prices in Singapore, in recent years
Table 234. Total expandable polystyrene capacity in Canada, 2012
Table 235. Canada: expandable polystyrene production in 2007-2012
Table 236. Canada: expandable polystyrene consumption in 2007-2012
Table 237. Export and import of expandable polystyrene in Canada, in recent years
Table 238. Structure of expandable polystyrene export by country in Canada in recent years
Table 239. Structure of expandable polystyrene import by country in Canada in recent years
Table 240. Expandable polystyrene prices in Canada, in recent years
Table 241. Total expandable polystyrene capacity in USA, 2012
Table 242. USA: expandable polystyrene production in 2007-2012
Table 243. USA: expandable polystyrene consumption in 2007-2012
Table 244. Export and import of expandable polystyrene in USA, in recent years
Table 245. Structure of expandable polystyrene export by country in USA in recent years
Table 246. Structure of expandable polystyrene import by country in USA in recent years
Table 247. Expandable polystyrene prices in USA, in recent years
Table 248. Total expandable polystyrene capacity in Argentina, 2012
Table 249. Argentina: expandable polystyrene production in 2007-2012
Table 250. Argentina: expandable polystyrene consumption in 2007-2012
Table 251. Export and import of expandable polystyrene in Argentina, in recent years
Table 252. Structure of expandable polystyrene export by country in Argentina in recent years
Table 253. Structure of expandable polystyrene import by country in Argentina in recent years
Table 254. Expandable polystyrene prices in Argentina, in recent years
Table 255. Total expandable polystyrene capacity in Brazil, 2012
Table 256. Brazil: expandable polystyrene production in 2007-2012
Table 257. Brazil: expandable polystyrene consumption in 2007-2012
Table 258. Export and import of expandable polystyrene in Brazil, in recent years
Table 259. Structure of expandable polystyrene export by country in Brazil in recent years
Table 260. Structure of expandable polystyrene import by country in Brazil in recent years
Table 261. Expandable polystyrene prices in Brazil, in recent years
Table 262. Total expandable polystyrene capacity in Chile, 2012
Table 263. Chile: expandable polystyrene production in 2007-2012
Table 264. Chile: expandable polystyrene consumption in 2007-2012
Table 265. Export and import of expandable polystyrene in Chile, in recent years
Table 266. Structure of expandable polystyrene export by country in Chile in recent years
Table 267. Structure of expandable polystyrene import by country in Chile in recent years
Table 268. Expandable polystyrene prices in Chile, in recent years
Table 269. Total expandable polystyrene capacity in Colombia, 2012
Table 270. Colombia: expandable polystyrene production in 2007-2012
Table 271. Colombia: expandable polystyrene consumption in 2007-2012
Table 272. Export and import of expandable polystyrene in Colombia, in recent years
Table 273. Structure of expandable polystyrene export by country in Colombia in recent years
Table 274. Structure of expandable polystyrene import by country in Colombia in recent years
Table 275. Expandable polystyrene prices in Colombia, in recent years
Table 276. Total expandable polystyrene capacity in Mexico, 2012
Table 277. Mexico: expandable polystyrene production in 2007-2012
Table 278. Mexico: expandable polystyrene consumption in 2007-2012
Table 279. Export and import of expandable polystyrene in Mexico, in recent years
Table 280. Structure of expandable polystyrene export by country in Mexico in recent years
Table 281. Structure of expandable polystyrene import by country in Mexico in recent years
Table 282. Expandable polystyrene prices in Mexico, in recent years
Table 283. Total expandable polystyrene capacity in Bahamas, 2012
Table 284. Bahamas: expandable polystyrene production in 2007-2012
Table 285. Bahamas: expandable polystyrene consumption in 2007-2012
Table 286. Export and import of Polystyrene, expansible, in primary forms in Bahamas, in recent years
Table 287. Structure of Polystyrene, expansible, in primary forms export by country in Bahamas in recent years
Table 288. Structure of Polystyrene, expansible, in primary forms import by country in Bahamas in recent years
Table 289. Expandable polystyrene prices in Bahamas, in recent years
Table 290. Total expandable polystyrene capacity in Iran, 2012
Table 291. Iran: expandable polystyrene production in 2007-2012
Table 292. Iran: expandable polystyrene consumption in 2007-2012
Table 293. Export and import of expandable polystyrene in Iran, in recent years
Table 294. Structure of expandable polystyrene export by country in Iran in recent years
Table 295. Structure of expandable polystyrene import by country in Iran in recent years
Table 296. Expandable polystyrene prices in Iran, in recent years
Table 297. Total expandable polystyrene capacity in Israel, 2012
Table 298. Israel: expandable polystyrene production in 2007-2012
Table 299. Israel: expandable polystyrene consumption in 2007-2012
Table 300. Export and import of expandable polystyrene in Israel, in recent years
Table 301. Structure of expandable polystyrene export by country in Israel in 2012
Table 302. Structure of expandable polystyrene import by country in Israel in recent years
Table 303. Expandable polystyrene prices in Israel, in recent years
Table 304. Total expandable polystyrene capacity in Turkey, 2012
Table 305. Turkey: expandable polystyrene production in 2007-2012
Table 306. Turkey: expandable polystyrene consumption in 2007-2012
Table 307. Import of expandable polystyrene in Turkey, in recent years
Table 308. Structure of expandable polystyrene import by country in Turkey in recent years
Table 309. Expandable polystyrene prices in Turkey, in recent years
Table 310. Tunisia: expandable polystyrene consumption in 2007-2012
Table 311. Import of expandable polystyrene in Tunisia, in recent years
Table 312. Structure of expandable polystyrene import by country in Tunisia in recent years
Table 313. Expandable polystyrene prices in Tunisia, in recent years
Table 314. Egypt: expandable polystyrene consumption in 2007-2012
Table 315. Import of expandable polystyrene in Egypt, in recent years
Table 316. Structure of expandable polystyrene import by country in Egypt in recent years
Table 317. Expandable polystyrene prices in Egypt, in recent years
Table 318. Syria: expandable polystyrene consumption in 2007-2012
Table 319. Import of expandable polystyrene in Syria, in recent years
Table 320. Structure of expandable polystyrene import by country in Syria in recent years
Table 321. Expandable polystyrene prices in Syria, in recent years
Table 322. Algeria: expandable polystyrene consumption in 2007-2012
Table 323. Import of Polystyrene, expansible, in primary forms in Algeria, in recent years
Table 324. Structure of Polystyrene, expansible, in primary forms import by country in Algeria in recent years
Table 325. Expandable polystyrene prices in Algeria, in recent years
Table 326. Global expandable polystyrene production forecast up to 2017
Table 327. Planned expandable polystyrene capacity introduction, 2012
Table 328. Global expandable polystyrene consumption forecast up to 2017
Table 329. Europe: expandable polystyrene consumption forecast up to 2017
Table 330. Asia: expandable polystyrene consumption forecast up to 2017
Table 331. North America: expandable polystyrene consumption forecast up to 2017
Table 332. Middle East: expandable polystyrene consumption forecast up to 2020
Table 333. Europe: expandable polystyrene prices forecast up to 2017
Table 334. Asia: expandable polystyrene prices forecast up to 2017
Table 335. North America: expandable polystyrene prices forecast up to 2017
Table 336. Loyal Group expandable polystyrene capacity in 2012
Table 337. Wuxi Xingda Group expandable polystyrene capacity in 2012
Table 338. BASF expandable polystyrene capacity in 2012
Table 339. INEOS Styrenics expandable polystyrene capacity in 2012
Table 340. Taita Chemical expandable polystyrene capacity in 2012
Table 341. Global styrene capacity, by region in 2012
Table 342. Styrene capacity by country, 2012
Figure 1. Expandable Polystyrene Beads Manufacturing Process
Figure 2. EPS Geofoam Manufacturing Process
Figure 3. Expandable polystyrene capacity broken down by region, 2012
Figure 4. Countries capacity shares in world total, 2012
Figure 5. EPS consumption in regions, 2012
Figure 6. Europe: expandable polystyrene prices in recent years
Figure 7. N.E. Asia: expandable polystyrene prices in recent years
Figure 8. S.E. Asia: expandable polystyrene prices in recent years
Figure 9. Expandable polystyrene prices in recent years
Figure 10. Expandable polystyrene supply/demand balance in Austria, in recent years
Figure 11. Import dynamics of expandable polystyrene in Austria in recent years
Figure 12. Trade balance of expandable polystyrene in Austria in recent years
Figure 13. Expandable polystyrene supply/demand balance in Croatia, in recent years
Figure 14. Export and import dynamics of expandable polystyrene in Croatia in recent years
Figure 15. Trade balance of expandable polystyrene in Croatia in recent years
Figure 16. Export and import dynamics of expandable polystyrene in Czech Republic in recent years
Figure 17. Trade balance of expandable polystyrene in Czech Republic in recent years
Figure 18. Expandable polystyrene supply/demand balance in Finland, in recent years
Figure 19. Export and import dynamics of expandable polystyrene in Finland in recent years
Figure 20. Trade balance of expandable polystyrene in Finland in recent years
Figure 21. Expandable polystyrene supply/demand balance in France, in recent years
Figure 22. Export and import dynamics of expandable polystyrene in France in recent years
Figure 23. Trade balance of expandable polystyrene in France in recent years
Figure 24. Expandable polystyrene supply/demand balance in Germany, in recent years
Figure 25. Export and import dynamics of expandable polystyrene in Germany in recent years
Figure 26. Trade balance of expandable polystyrene in Germany in recent years
Figure 27. Expandable polystyrene supply/demand balance in Greece, in recent years
Figure 28. Export and import dynamics of expandable polystyrene in Greece in recent years
Figure 29. Trade balance of expandable polystyrene in Greece in recent years
Figure 30. Expandable polystyrene supply/demand balance in Hungary, in recent years
Figure 31. Export and import dynamics of expandable polystyrene in Hungary in recent years
Figure 32. Trade balance of expandable polystyrene in Hungary in recent years
Figure 33. Expandable polystyrene supply/demand balance in Italy, in recent years
Figure 34. Export and import dynamics of expandable polystyrene in Italy in recent years
Figure 35. Trade balance of expandable polystyrene in Italy in recent years
Figure 36. Expandable polystyrene supply/demand balance in Netherlands, in recent years
Figure 37. Export and import dynamics of expandable polystyrene in Netherlands in recent years
Figure 38. Trade balance of expandable polystyrene in Netherlands in recent years
Figure 39. Expandable polystyrene supply/demand balance in Norway, in recent years
Figure 40. Import dynamics of expandable polystyrene in Norway in recent years
Figure 41. Trade balance of expandable polystyrene in Norway in recent years
Figure 42. Expandable polystyrene supply/demand balance in Poland, in recent years
Figure 43. Export and import dynamics of expandable polystyrene in Poland in recent years
Figure 44. Trade balance of expandable polystyrene in Poland in recent years
Figure 45. Expandable polystyrene supply/demand balance in Romania, in recent years
Figure 46. Export and import dynamics of expandable polystyrene in Romania in recent years
Figure 47. Trade balance of expandable polystyrene in Romania in recent years
Figure 48. Export and import dynamics of expandable polystyrene in Russia in recent years
Figure 49. Trade balance of expandable polystyrene in Russia in recent years
Figure 50. Expandable polystyrene supply/demand balance in Spain, in recent years
Figure 51. Export and import dynamics of expandable polystyrene in Spain in recent years
Figure 52. Trade balance of expandable polystyrene in Spain in recent years
Figure 53. Expandable polystyrene supply/demand balance in Ukraine, in recent years
Figure 54. Export and import dynamics of expandable polystyrene in Ukraine in recent years
Figure 55. Trade balance of expandable polystyrene in Ukraine in recent years
Figure 56. Expandable polystyrene supply/demand balance in Belgium, in recent years
Figure 57. Export and import dynamics of Polystyrene, expansible, in primary forms in Belgium in recent years, tons
Figure 58. Trade balance of Polystyrene, expansible, in primary forms in Belgium in recent years, tons
Figure 59. Expandable polystyrene supply/demand balance in Sweden, in recent years
Figure 60. Export and import dynamics of Polystyrene, expansible, in primary forms in Sweden in recent years, tons
Figure 61. Trade balance of Polystyrene, expansible, in primary forms in Sweden in recent years, tons
Figure 62. Export and import dynamics of Polystyrene, expansible, in primary forms in United Kingdom in recent years, tons
Figure 63. Trade balance of Polystyrene, expansible, in primary forms in United Kingdom in recent years, tons
Figure 64. Export and import dynamics of Polystyrene, expansible, in primary forms in Switzerland in recent years, tons
Figure 65. Trade balance of Polystyrene, expansible, in primary forms in Switzerland in recent years, tons
Figure 66. Expandable polystyrene supply/demand balance in Denmark, in recent years
Figure 67. Export and import dynamics of Polystyrene, expansible, in primary forms in Denmark in recent years, tons
Figure 68. Trade balance of Polystyrene, expansible, in primary forms in Denmark in recent years, tons
Figure 69. Export and import dynamics of Polystyrene, expansible, in primary forms in Belarus in recent years, tons
Figure 70. Trade balance of Polystyrene, expansible, in primary forms in Belarus in recent years, tons
Figure 71. Expandable polystyrene supply/demand balance in China, in recent years
Figure 72. Export and import dynamics of expandable polystyrene in China in recent years
Figure 73. Trade balance of expandable polystyrene in China in recent years
Figure 74. Expandable polystyrene supply/demand balance in India, in recent years
Figure 75. Export and import dynamics of expandable polystyrene in India in recent years
Figure 76. Trade balance of expandable polystyrene in India in recent years
Figure 77. Expandable polystyrene supply/demand balance in Indonesia, in recent years
Figure 78. Export and import dynamics of expandable polystyrene in Indonesia in recent years
Figure 79. Trade balance of expandable polystyrene in Indonesia in recent years
Figure 80. Expandable polystyrene supply/demand balance in Malaysia, in recent years
Figure 81. Export and import dynamics of expandable polystyrene in Malaysia in recent years
Figure 82. Trade balance of expandable polystyrene in Malaysia in recent years
Figure 83. Expandable polystyrene supply/demand balance in Pakistan, in recent years
Figure 84. Export and import dynamics of expandable polystyrene in Pakistan in recent years
Figure 85. Trade balance of expandable polystyrene in Pakistan in recent years
Figure 86. Expandable polystyrene supply/demand balance in South Korea, in recent years
Figure 87. Export and import dynamics of expandable polystyrene in South Korea in recent years
Figure 88. Trade balance of expandable polystyrene in South Korea in recent years
Figure 89. Expandable polystyrene supply/demand balance in Thailand, in recent years
Figure 90. Export and import dynamics of expandable polystyrene in Thailand in recent years
Figure 91. Trade balance of expandable polystyrene in Thailand in recent years
Figure 92. Expandable polystyrene supply/demand balance in Kazakhstan, in recent years
Figure 93. Export and import dynamics of expandable polystyrene in Kazakhstan in recent years
Figure 94. Trade balance of expandable polystyrene in Kazakhstan in recent years
Figure 95. Expandable polystyrene supply/demand balance in Vietnam, in recent years
Figure 96. Export and import dynamics of expandable polystyrene in Vietnam in recent years
Figure 97. Trade balance of expandable polystyrene in Vietnam in recent years
Figure 98. Export and import dynamics of Polystyrene, expansible, in primary forms in Singapore in recent years, tons
Figure 99. Trade balance of Polystyrene, expansible, in primary forms in Singapore in recent years, tons
Figure 100. Expandable polystyrene supply/demand balance in Canada, in recent years
Figure 101. Export and import dynamics of expandable polystyrene in Canada in recent years
Figure 102. Trade balance of expandable polystyrene in Canada in recent years
Figure 103. Expandable polystyrene supply/demand balance in USA, in recent years
Figure 104. Export and import dynamics of expandable polystyrene in USA in recent years
Figure 105. Trade balance of expandable polystyrene in USA in recent years
Figure 106. Expandable polystyrene supply/demand balance in Argentina, in recent years
Figure 107. Export and import dynamics of expandable polystyrene in Argentina in recent years
Figure 108. Trade balance of expandable polystyrene in Argentina in recent years
Figure 109. Expandable polystyrene supply/demand balance in Brazil, in recent years
Figure 110. Export and import dynamics of expandable polystyrene in Brazil in recent years
Figure 111. Trade balance of expandable polystyrene in Brazil in recent years
Figure 112. Expandable polystyrene supply/demand balance in Chile, in recent years
Figure 113. Export and import dynamics of expandable polystyrene in Chile in recent years
Figure 114. Trade balance of expandable polystyrene in Chile in recent years
Figure 115. Expandable polystyrene supply/demand balance in Colombia, in recent years
Figure 116. Export and import dynamics of expandable polystyrene in Colombia in recent years
Figure 117. Trade balance of expandable polystyrene in Colombia in recent years
Figure 118. Expandable polystyrene supply/demand balance in Mexico, in recent years
Figure 119. Export and import dynamics of expandable polystyrene in Mexico in recent years
Figure 120. Trade balance of expandable polystyrene in Mexico in recent years
Figure 121. Expandable polystyrene supply/demand balance in Bahamas, in recent years
Figure 122. Export and import dynamics of Polystyrene, expansible, in primary forms in Bahamas in recent years, tons
Figure 123. Trade balance of Polystyrene, expansible, in primary forms in Bahamas in recent years, tons
Figure 124. Expandable polystyrene supply/demand balance in Iran, in recent years
Figure 125. Export and import dynamics of expandable polystyrene in Iran in recent years
Figure 126. Trade balance of expandable polystyrene in Iran in recent years
Figure 127. Expandable polystyrene supply/demand balance in Israel, in recent years
Figure 128. Export and import dynamics of expandable polystyrene in Israel in recent years
Figure 129. Trade balance of expandable polystyrene in Israel in recent years
Figure 130. Expandable polystyrene supply/demand balance in Turkey, in recent years
Figure 131. Import dynamics of expandable polystyrene in Turkey in recent years, tons
Figure 132. Trade balance of expandable polystyrene in Turkey in recent years, tons
Figure 133. Import dynamics of expandable polystyrene in Tunisia in recent years, tons
Figure 134. Trade balance of expandable polystyrene in Tunisia in recent years, tons
Figure 135. Import dynamics of expandable polystyrene in Egypt in recent years, tons
Figure 136. Trade balance of expandable polystyrene in Egypt in recent years, tons
Figure 137. Import dynamics of expandable polystyrene in Syria in recent years, tons
Figure 138. Trade balance of expandable polystyrene in Syria in recent years, tons
Figure 139. Import dynamics of Polystyrene, expansible, in primary forms in Algeria in recent years, tons
Figure 140. Trade balance of Polystyrene, expansible, in primary forms in Algeria in recent years, tons
Figure 141. Loyal Group plants shares in company's total, 2012
Figure 142. Loyal Group share in the global expandable polystyrene industry, 2012
Figure 143. Wuxi Xingda Group plants shares in company's total, 2012
Figure 144. Wuxi Xingda Group share in the global expandable polystyrene industry, 2012
Figure 145. BASF plants shares in company's total, 2012
Figure 146. BASF share in the global expandable polystyrene industry, 2012
Figure 147. INEOS Styrenics plants shares in company's total, 2012
Figure 148. INEOS Styrenics share in the global expandable polystyrene industry, 2012
Figure 149. Taita Chemical plants shares in company's total, 2012
Figure 150. Taita Chemical share in the global expandable polystyrene industry, 2012
Figure 151. Global styrene capacity structure, 2012
| Title | Date | Pages | Price |
| --- | --- | --- | --- |
| | Apr, 2013 | 241 | US$ 4,500.00 |