Zeolites: 2014 Market Review and Forecast
About

Table of Contents

List of Tables

Help & Support
About Zeolites Market
Zeolites world reserves are large, and many countries do not estimate them. They also do not report natural zeolites production due to low value applications. Many world countries extensively use zeolites in construction industry, and therefore the market is sluggish. Reduced level of building activities weakens zeolites prices.
The main producer of zeolites is China with 74% of world production share.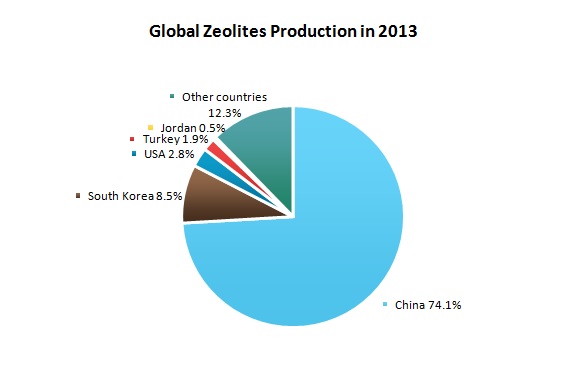 Zeolites Market Review is a source for detailed information on the metal market situation. The report contains descriptive and analytical parts, sustained with statistical tables and figures of relevant national and global markets. The last chapter gives volume and price forecast for the next five years.
Scope
Geographically zeolites report covers:
Timeframe of zeolites report:
Present situation
Historical background
Five-year forecast
Global zeolites market analysis includes:
Zeolites recourses
Zeolites production and consumption
Zeolites prices
Zeolites 5-year market forecast
A region/country market overview comprises:
Zeolites supply/demand balance
Zeolites export and import
Zeolites manufacturers
Reasons to Buy
The immediate benefits of buying this report are as follows:
Detailed statistics give clear picture of current market situation;
Extensive price charts draw particular pricing trends for the last two years;
Production/consumption charts backed with export/import tables outline country's market position and value;
Search for prospective partners and suppliers is facilitated;
Distinct market forecast aids the decision-making process.
DISCLAIMER

RESEARCH METHODOLOGY

1. WORLD ZEOLITES MARKET

1.1. Zeolites in global industry
1.2. Zeolites market overview
1.3. Zeolites prices

2. NORTH AMERICAN MARKET OF ZEOLITES

2.1. USA

3. EUROPEAN MARKET OF ZEOLITES

3.1. Slovakia
3.2. Turkey

4. ASIAN MARKET OF ZEOLITES

4.1. China
4.2. Japan
4.3. South Korea

5. MIDDLE EAST MARKET OF ZEOLITES

5.1. Jordan

6. ZEOLITES MARKET FORECAST UP TO 2018




Table 1. World mine production of zeolites, 2008-2013, thousand metric tons
Table 2. Zeolites: world mine production, by country, 2012-2013, thousand metric tons
Table 3. Zeolites average prices range, 2008-2013, $/tonne
Table 4. Zeolites production and consumption in USA, 2008-2013, metric tons
Table 5. Export and import of zeolites in USA, 2008-2013
Table 6. Structure of zeolites export by USA in 2012-2013
Table 7. Structure of zeolites import by USA in 2012-2013
Table 8. Zeolites production and consumption in Slovakia, 2008-2013, metric tons
Table 9. Export and import of zeolites in Slovakia, 2008-2013
Table 10. Structure of zeolites export by Slovakia in 2012-2013
Table 11. Structure of zeolites import by Slovakia in 2012-2013
Table 12. Zeolites production and consumption in Turkey, 2008-2013, metric tons
Table 13. Export and import of zeolites in Turkey, 2008-2013
Table 14. Structure of zeolites export by Turkey in 2012-2013
Table 15. Structure of zeolites import by Turkey in 2012-2013
Table 16. Zeolites production and consumption in China, 2008-2013, metric tons
Table 17. Export and import of zeolites in China, 2008-2013
Table 18. Structure of zeolites export by China in 2012-2013
Table 19. Structure of zeolites import by China in 2012-2013
Table 20. Zeolites production and consumption in Japan, 2008-2013, metric tons
Table 21. Export and import of zeolites in Japan, 2008-2013
Table 22. Structure of zeolites export by Japan in 2012-2013
Table 23. Structure of zeolites import by Japan in 2012-2013
Table 24. Zeolites production and consumption in South Korea, 2008-2013, metric tons
Table 25. Export and import of zeolites in South Korea, 2008-2013
Table 26. Structure of zeolites export by South Korea in 2012-2013
Table 27. Structure of zeolites import by South Korea in 2012-2013
Table 28. Zeolites production and consumption in Jordan, 2008-2013, metric tons
Table 29. Export and import of zeolites in Jordan, 2008-2013
Table 30. Structure of zeolites export by Jordan in 2012-2013
Table 31. Structure of zeolites import by Jordan in 2012-2013
Table 32. Zeolites market forecasts, 2014-2018
Ask a question or Order by email
Related Reports
| Title | Date | Pages | Price |
| --- | --- | --- | --- |
| | Jan, 2014 | 95 | US$ 1,190.00 |
| | Jan, 2014 | 90 | US$ 1,290.00 |
| | Jan, 2014 | 56 | US$ 1,090.00 |
| | Feb, 2014 | 82 | US$ 1,190.00 |
| | Jan, 2014 | 62 | US$ 890.00 |
Our Partners & Customers