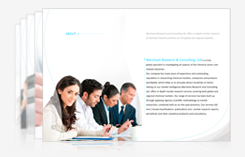 Download PDF Leaflet
Merchant Research & Consulting, Ltd is a truly global specialist in investigating all aspects of the chemical sector and related industries. Our company has many years of experience and outstanding reputation in researching chemical markets, companies and products worldwide, which helps us to annually attract hundreds of clients relying on our market intelligence.
Merchant Research and Consulting Ltd. offers in-depth market research services covering both global and regional chemical markets. Our range of services has been built up through applying rigorous scientific methodology to market researches, combined with an on-the-spot-presence. Our services fall into 2 broad classifications:
- Publications (incl. market research reports, periodicals and other analytical products)
- Consultancy
1. Market research publications
More than 150 chemical products are covered by our Market Research Reports, which we regularly update. Each Report gives a comprehensive analysis of a specific chemical market. Reports address multiple issues such as production, consumption, price trends, feedstock market behavior, international trade patterns, distribution pathways, forecasts, to name only a few.
We also publish Periodicals broken down by product categories (Alcohols, Acids and Esters; Petrochemicals; Inorganic chemicals; Polymers and Resins; Metals) and regions (North America, Latin America, Asia, MENA, European Union and Eastern Europe).
2. Consultancy
Our consultancy division offers our clients a wide range of consulting services, including market assessments, feasibility studies, industry analysis, due diligence and omnibus research. Our dedicated team, which unites PhD and Master Degree specialists in Chemistry, Marketing and IT with business professionals, performs permanent monitoring of the situation in the chemical industry market using our deep expertise and unparalleled know-how in the market analysis, data mining tools and database operation.