Chromium: 2014 Market Review and Forecast
About

Table of Contents

List of Tables

Help & Support
About Chromium Market
World primary Chromium production volumes increased by 1.6% to 26 million tons in 2013 compared with production in 2012. Since China is the world largest steel producer, it is the biggest ferrochromium consumer as well. But the main producer of Chromium is South Africa with 42.3% of world production share. The country has the force to impact the ferrochromium market, and in future its suppliers might decrease while China consumption of the compound is posed to grow.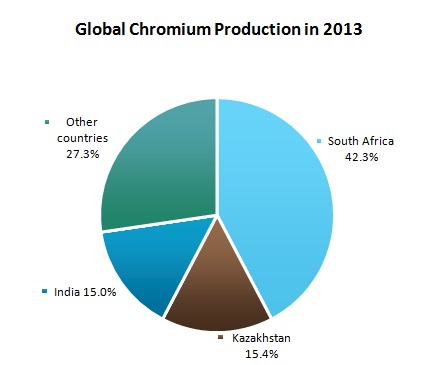 Chromium Market Review is a source for detailed information on the metal market situation. The report contains descriptive and analytical parts, sustained with statistical tables and figures of relevant national and global markets. The last chapter gives volume and price forecast for the next five years.
Scope
Geographically Chromium report covers:
Timeframe of Chromium report:
Present situation
Historical background
Five-year forecast
Global Chromium market analysis includes:
Chromium recourses
Chromium production and consumption
Chromium prices
Chromium 5-year market forecast
A region/country market overview comprises:
Chromium supply/demand balance
Chromium export and import
Chromium manufacturers
Reasons to Buy
The immediate benefits of buying this report are as follows:
Detailed statistics give clear picture of current market situation;
Extensive price charts draw particular pricing trends for the last two years;
Production/consumption charts backed with export/import tables outline country's market position and value;
Search for prospective partners and suppliers is facilitated;
Distinct market forecast aids the decision-making process.
DISCLAIMER

RESEARCH METHODOLOGY

1. WORLD CHROMIUM MARKET

1.1. Chromium in Global Industry
1.2. Chromium Market Overview
1.3. Chromium Prices

2. NORTH AMERICAN MARKET OF CHROMIUM

2.1. USA

3. LATIN AMERICAN MARKET OF CHROMIUM

3.1. Brazil

4. EUROPEAN MARKET OF CHROMIUM

4.1. European Union Market of Chromium
4.1.1. Finland
4.2. Non-EU Market of Chromium
4.2.1. Turkey
4.2.2. Russia
4.2.3. Kazakhstan

5. ASIAN AND MIDDLE EAST MARKET OF CHROMIUM

5.1. China
5.2. India
5.3. Iran
5.4. Oman

6. AFRICAN MARKET OF CHROMIUM

6.1. South Africa

7. OCEANIAN MARKET OF CHROMIUM

7.1. Australia

8. CHROMIUM MARKET FORECAST UP TO 2018




Table 1. Chromium: world reserves, by country, 2012-2013 (Metric tons)
Table 2. Chromium: world production, 2008-2013 (Metric tons)
Table 3. Chromium: world production, by country, 2012-2013 (Metric tons)
Table 4. Chromium average prices, 2008-2013
Table 5. Ferrochrome Price, year average, 2008-2013
Table 6. Production and consumption of chromium in USA, 2008-2013 (Metric tons of chromium content)
Table 7. Export and import of Chromium ores and concentrates in USA, 2008-2013
Table 8. Structure of Chromium ores and concentrates export by USA in 2012-2013
Table 9. Structure of Chromium ores and concentrates import by USA in 2012-2013
Table 10. Export and import of Chromium metal in USA, 2008-2013
Table 11. Structure of Chromium metal export by USA in 2012-2013
Table 12. Structure of Chromium metal import by USA in 2012-2013
Table 13. Chromium production and consumption in Brazil, 2008-2013 (Metric tons, chromium content)
Table 14. Export and import of Chromium ores and concentrates in Brazil, 2008-2013
Table 15. Structure of Chromium ores and concentrates export by Brazil in 2012-2013
Table 16. Structure of Chromium ores and concentrates import by Brazil in 2012-2013
Table 17. Export and import of Chromium metal in Brazil, 2008-2013
Table 18. Structure of Chromium metal export by Brazil in 2012-2013
Table 19. Structure of Chromium metal import by Brazil in 2012-2013
Table 20. Chromium production and consumption in Finland, 2008-2013 (Metric tons, chromium content)
Table 21. Export and import of Chromium ores and concentrates in Finland, 2008-2013
Table 22. Structure of Chromium ores and concentrates export by Finland in 2012-2013
Table 23. Structure of Chromium ores and concentrates import by Finland in 2012-2013
Table 24. Export and import of Chromium metal in Finland, 2008-2013
Table 25. Structure of Chromium metal export by Finland in 2012-2013
Table 26. Structure of Chromium metal import by Finland in 2012-2013
Table 27. Chromium production and consumption in Turkey, 2008-2013 (Metric tons, chromium content)
Table 28. Export and import of Chromium ores and concentrates in Turkey, 2008-2013
Table 29. Structure of Chromium ores and concentrates export by Turkey in 2012-2013
Table 30. Structure of Chromium ores and concentrates import by Turkey in 2012-2013
Table 31. Export and import of Chromium metal in Turkey, 2008-2013
Table 32. Structure of Chromium metal export by Turkey in 2012-2013
Table 33. Structure of Chromium metal import by Turkey in 2012-2013
Table 34. Chromium production and consumption in Russia, 2008-2013 (Metric tons, chromium content)
Table 35. Export and import of Chromium ores and concentrates in Russia, 2008-2013
Table 36. Structure of Chromium ores and concentrates export by Russia in 2012-2013
Table 37. Structure of Chromium ores and concentrates import by Russia in 2012-2013
Table 38. Export and import of Chromium metal in Russia, 2008-2013
Table 39. Structure of Chromium metal export by Russia in 2012-2013
Table 40. Structure of Chromium metal import by Russia in 2012-2013
Table 41. Chromium production and consumption in Kazakhstan, 2008-2013 (Metric tons, chromium content)
Table 42. Export and import of Chromium ores and concentrates in Kazakhstan, 2008-2013
Table 43. Structure of Chromium ores and concentrates export by Kazakhstan in 2012-2013
Table 44. Structure of Chromium ores and concentrates import by Kazakhstan in 2012-2013
Table 45. Export and import of Chromium metal in Kazakhstan, 2008-2013
Table 46. Structure of Chromium metal export by Kazakhstan in 2012-2013
Table 47. Structure of Chromium metal import by Kazakhstan in 2012-2013
Table 48. Chromium production and consumption in China, 2008-2013 (Metric tons, chromium content)
Table 49. Export and import of Chromium ores and concentrates in China, 2008-2013
Table 50. Structure of Chromium ores and concentrates export by China in 2012-2013
Table 51. Structure of Chromium ores and concentrates import by China in 2012-2013
Table 52. Export and import of Chromium metal in China, 2008-2013
Table 53. Structure of Chromium metal export by China in 2012-2013
Table 54. Structure of Chromium metal import by China in 2012-2013
Table 55. Chromium production and consumption in India, 2008-2013 (Metric tons, chromium content)
Table 56. Export and import of Chromium ores and concentrates in India, 2008-2013
Table 57. Structure of Chromium ores and concentrates export by India in 2012-2013
Table 58. Structure of Chromium ores and concentrates import by India in 2012-2013
Table 59. Export and import of Chromium metal in India, 2008-2013
Table 60. Structure of Chromium metal export by India in 2012-2013
Table 61. Structure of Chromium metal import by India in 2012-2013
Table 62. Chromium production and consumption in Iran, 2008-2013 (Metric tons, chromium content)
Table 63. Export and import of Chromium ores and concentrates in Iran, 2008-2013
Table 64. Structure of Chromium ores and concentrates export by Iran in 2012-2013
Table 65. Structure of Chromium ores and concentrates import by Iran in 2012-2013
Table 66. Export and import of Chromium metal in Iran, 2008-2013
Table 67. Structure of Chromium metal export by Iran in 2012-2013
Table 68. Structure of Chromium metal import by Iran in 2012-2013
Table 69. Chromium production and consumption in Oman, 2008-2013 (Metric tons, chromium content)
Table 70. Export and import of Chromium ores and concentrates in Oman, 2008-2013
Table 71. Structure of Chromium ores and concentrates export by Oman in 2012-2013
Table 72. Structure of Chromium ores and concentrates import by Oman in 2012-2013
Table 73. Export and import of Chromium metal in Oman, 2008-2013
Table 74. Structure of Chromium metal export by Oman in 2012-2013
Table 75. Structure of Chromium metal import by Oman in 2012-2013
Table 76. Chromium production and consumption in South Africa, 2008-2013 (Metric tons, chromium content)
Table 77. Export and import of Chromium ores and concentrates in South Africa, 2008-2013
Table 77. Structure of Chromium ores and concentrates export by South Africa in 2012-2013
Table 78. Structure of Chromium ores and concentrates import by South Africa in 2012-2013
Table 79. Export and import of Chromium metal in South Africa, 2008-2013
Table 80. Structure of Chromium metal export by South Africa in 2012-2013
Table 81. Structure of Chromium metal import by South Africa in 2012-2013
Table 82. Chromium production and consumption in Australia, 2008-2013 (Metric tons, chromium content)
Table 82. Export and import of Chromium ores and concentrates in Australia, 2008-2013
Table 83. Structure of Chromium ores and concentrates export by Australia in 2012-2013
Table 84. Structure of Chromium ores and concentrates import by Australia in 2012-2013
Table 85. Export and import of Chromium metal in Australia, 2008-2013
Table 86. Structure of Chromium metal export by Australia in 2012-2013
Table 87. Structure of Chromium metal import by Australia in 2012-2013
Table 88. Chromium market forecasts, 2014-2018
Ask a question or Order by email
Related Reports
| Title | Date | Pages | Price |
| --- | --- | --- | --- |
| | Jan, 2014 | 102 | US$ 990.00 |
| | Jan, 2014 | 57 | US$ 990.00 |
Our Partners & Customers