The global polyisobutylene market has been witnessing stable growth during the past 8 years (except a slight drop in 2008) given the uptrend of the demand all over the world.
North America is the largest producing region, with local companies generating more than one third of the world output. Its production volumes amounted to over 372,000 tonnes in 2011. The U.S. is the dominant polyisobutylene manufacturer. Together with four other market leaders (South Korea, Belgium, France and China) it produces over 80% of the global output.
Polyisobutylene production by country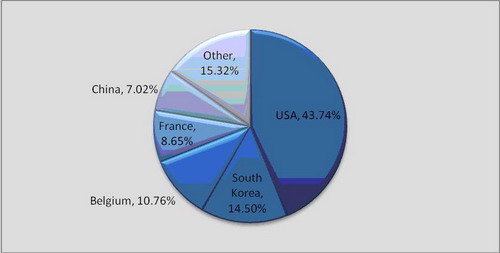 The Belgium-based company BASF Antwerpen NV is internationally renowned. It produces above 95,000 tonnes of polyisobutylene per year. Belgium exports polyisobutylene to many countries. France, Italy, Germany, the UK and China are the major destinations for most shipments. Belgian polyisobutylene import prices have been higher than export ones during last several years.
Export and import of Polyisobutylene in Belgium, 2006-2011

The world polyisobutylene consumption was estimated around 846,000 tonnes in 2010. In 2011, it stopped at nearly 853,000 tonnes.
North America and Europe are the key polyisobutylene consumers. Their overall consumption was assessed at approximately 580,000 tonnes in 2011, with North America accounting for more than 54% of this figure.
Polyisobutylene is widely used in the production of fuel additives and lubricants. In 2011, representatives of these polyisobutylene sectors obtained more than three fourth of the product available on the market.
Global polyisobutylene sales dropped in 2009, but the situation improved in 2010-2011. The market has showed a stable growth rate. Nevertheless, the trade balance was negative in Europe and North America in 2011.
The world demand for polyisobutylene is forecast to enhance by over 5% annually in the coming years. The global polyisobutylene consumption is likely to exceed 1.21 million tonnes by end-2017.
More information on the Polyisobutylene market can be found in the report Polyisobutylene: 2012 World Market Outlook and Forecast up to 2017.