The worldwide calcium chloride market witnessed stable growth over 2003-2011 due to the constantly increasing demand. In 2011, the world calcium chloride output was above 3.39 million tonnes.
The global calcium chloride market is undoubtedly dominated by North America. In 2011, the region generated more than 1.68 million tonnes of the product. The figure corresponds to almost 50% of the world output in the same year.
Asia and Europe hold the second and the third place in the world in terms of the calcium chloride production, respectively, having approximately equal market shares of over 22%.
The USA, China, Canada, Russia and the Netherlands are the top five calcium chloride producers. However, only the USA and China have annual production capacities of above 1 million tonnes.
Major calcium chloride producers in the world, 2011 (shares)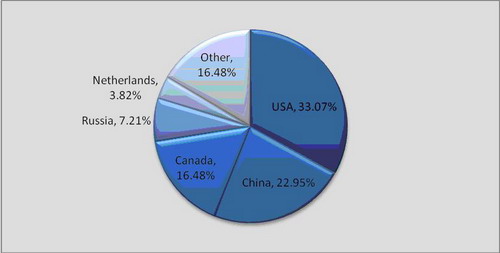 Tetra Technologies, Inc., OxyChem, Ward Chemical, Ludington and Calling Lake are the most prominent participants of the calcium chloride market. The majority of market leaders are based in North America.
The global consumption of the calcium chloride has been increasing over the past several years. Between 2009 and 2011 it has enlarged by 298,000 tonnes and in 2011 ran up close to 3.4 million tonnes.
North America, Asia and Europe are the leading consumers of calcium chloride.
In Belgium, export volumes of calcium chloride increased by nearly 1,838 tonnes over 2009-2011. Nevertheless, imports considerably prevail over exports in the country. In 2011, the exports were estimated at above 7,550 tonnes, while imports were more than 32,000. The Netherlands and Sweden were the top importers of the Belgian calcium chloride in 2011.
Export and import dynamics of Calcium chloride in Belgium in 2006-2011, tonnes

In China, exports of the product have enlarged since 2007 by more than 50,000 tonnes annually to reach 727,000 tonnes in 2011. In 2011, country's calcium chloride exports were 725,000 tonnes higher than imports. Korea, the USA and Saudi Arabia are the key importers of the China's calcium chloride.
The global output of calcium chloride is predicted to go beyond 3.69 million tonnes by end-2017. The world demand for the product is likely to grow by 1.5% in 2012-2017.
More information on the Calcium Chloride market can be found in the report Calcium Chloride: 2012 World Market Outlook and Forecast.