Calcium chloride is an essential raw material for diverse industries. It is extensively used in the production of agricultural nutrients and animal feed mixes. The product is used to maintain unpaved roads and fortify road bases for new construction. Calcium chloride is used as a deicer and liquid tire ballast. The product also finds application in the food processing industry as well as in the metallurgical sector.
In 2012, the world's calcium chloride annual capacity was estimated at more than 4.89 million tonnes. North America accounted for over half of the overall capacity. It was followed by Asia and Europe, each holding a share of over 20%.
Global calcium chloride capacity broken down by region, 2012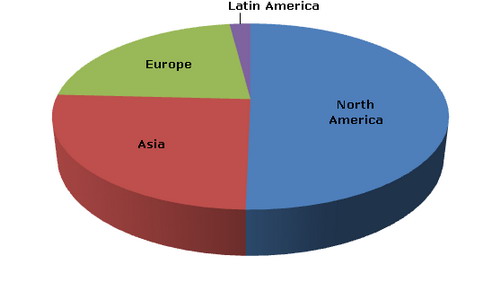 During 2009-2012, the global calcium chloride production registered stable growth. In 2012, it grew by over 70,000 and reached more than 3.47 million tonnes. On a regional level, North America is the leading calcium chloride market in terms of production volume. The US, China, Canada, Russia and the Netherlands are the top five calcium chloride producers.
Global calcium chloride production broken down by country, 2012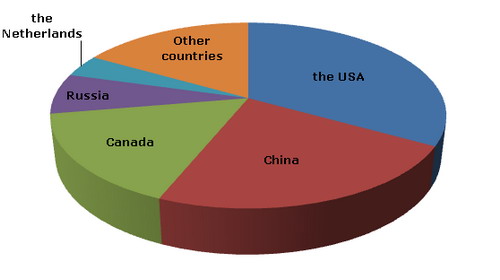 Tetra Technologies, OxyChem, Ward Chemical, Tiger Calcium Services, Zirax, Tangshan Sanyou Group, Qingdao Huadong Calcium Producing, BJ Services Company and HaloPolymer are among the top companies playing in the world calcium chloride market.
In 2011, the global foreign trade in calcium chloride was evaluated at more than USD 403 million. North America dominates calcium chloride consumption worldwide. Asia is the world's leading exporter of calcium chloride, while Europe imports the largest amount of calcium chloride.
The global calcium chloride market is likely to witness stable growth in the years ahead, driven by constantly increasing demand as well as planned capacity adds worldwide. Globally, calcium chloride supply is forecast to increase by over 50,000 tonnes annually between 2013 and 2017; in 2015, it is expected to climb above 3.6 million tonnes.
More information on the calcium chloride market can be found in the report "Calcium Chloride (CaCl2) 2013 World Market Outlook and Forecast up to 2017".