Cadmium is a soft, malleable, silvery- or bluish-white metal occurring mainly in zinc ores. Over 80% of the world's annual output of cadmium is used in the production of batteries (primarily rechargeable nickel-cadmium ones), making it the major application of the product. Alloys, pigments, stabilizers, electronic compounds and coatings are also important cadmium end-use applications.
In 2012, estimated global cadmium reserves were around 500,000 tonnes. The US, Mexico, Peru, Russia and India are amid countries possessing substantial cadmium deposits.
World structure of cadmium reserves by country, 2012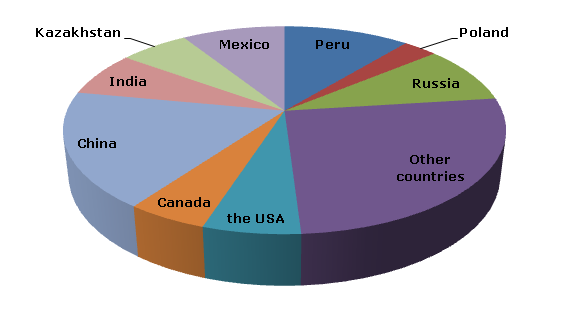 In 2012, the global cadmium production registered 3.1% YoY growth and went beyond 23,400 tonnes. In the same year, the major part of all refined cadmium produced globally came from Asia, followed by Central Europe and Eurasia. China ranks as the leading cadmium producer in the world, calling for almost 30% share of the global supply. South Korea and Japan come in second and third, respectively. The combined cadmium production volume of the top three country-manufacturers stood at over 13,200 tonnes in 2012. Meanwhile, global secondary cadmium production accounted for around a quarter of the overall cadmium metal produced.
Cadmium: world refinery production by country, 2012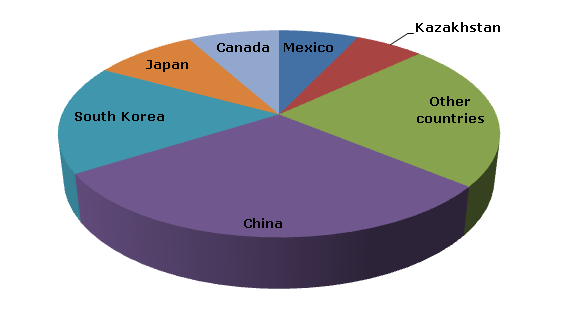 The market is inhabited by numerous companies worldwide, including Nyrstar NV, Toxco Inc., Teck Resources Limited, Industrias Penoles, Votorantim Metais – Cajamarquilla S.A., KCM AD, PPM Pure Metals GmbH, Nyrstar Budel, Huta Cynku, Sumitomo Metal Mining Co., Binani Zinc Limited, Kazzinc Ltd., Young Poong Corp, Shaoguan Smelter, Zhuzhou Smelter Group Co., and Huludao Zinc Smelter, among others.
In 2012, global cadmium consumption remained at the same level if compared to 2011, thus creating a surplus of metal in the market. China, Belgium and Japan accounted for the largest shares of the overall consumption volume.
In 2012, the production volume of cadmium in the leading country, China, stayed at the same level as in 2011 and was estimated at 7,000 tonnes. Meanwhile, the volume of the domestic product consumption registered a 36.1% YoY increase. China imports a substantial quantity of cadmium as the demand outpaces the domestic supply. The Republic of Korea, Kazakhstan, Japan and Peru are the key suppliers of cadmium to China.
The global cadmium market is expected to experience weak growth due to slow demand growth worldwide. The world cadmium production is likely to climb to just over 23,600 tonnes in 2015. Rising awareness of cadmium's toxicity and the introduction of cadmium usage restrictions in certain countries pose the major challenges to the sector growth.
More information on the cadmium market can be found in the report "Cadmium Market Review".