In 2012, the global annual production capacity of polyethylene terephthalate (PET) stood at over 28 million tonnes. Asia-Pacific held about half of the overall capacity, with China ranking first both in the region and throughout the globe. Europe and North America followed after, each accounting for around 14% of the installed capacity of PET production worldwide.
PET capacity broken down by region, 2012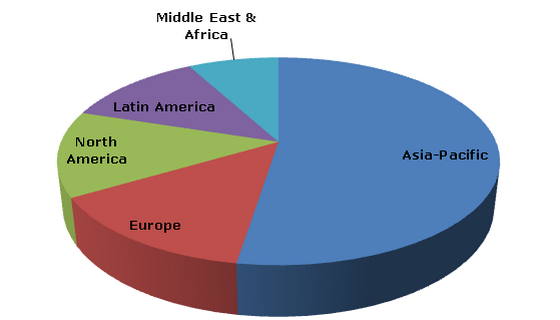 During 2004-2011, the world PET production increased from nearly 11.3 million tonnes to around 18.6 million tonnes, registering an average annual growth of over 7%. In 2012, it surpassed the 19.8 million tonnes mark. In the same year, Asia accounted for the largest share of the world's total PET production volume, harvesting more than 9.5 million tonnes of the polyester material. China, the US, Mexico, Taiwan and South Korea were the globe's top five PET manufacturing countries, with a combined share of nearly 55% of the overall production; their production volume was estimated at over 10.7 million tonnes in 2012.
Global PET production broken down by country, 2012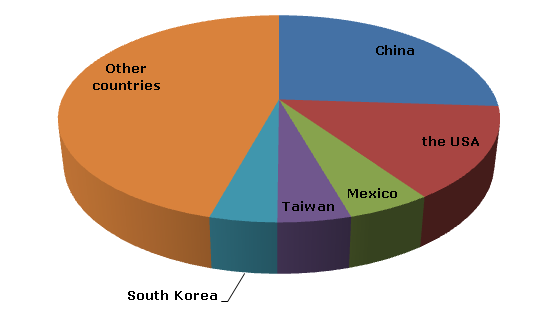 Indorama Ventures PCL, DAK Americas, M&G Group, Jiangsu Sanfangxiang Group Co, China Resources Packaging, JBF Industries Ltd, SINOPEC, Octal Holding & Co, Shahid Tondgooyan Petrochemical Co, Lotte Chemical, Far Eastern Textile Ltd and Nan Ya Plastics Corp are amid the dominant companies engaged in the global PET industry.
The world PET consumption was on an upward trend during 2004-2012. In 2012, it stood at over 19.8 million tonnes. Asia was the leading PET consumer in the world, folowed by Europe and North America. The polyester fiber industry is the major end-user sector for PET – over 60% of the annual supply volume was used in this application in 2012. In the same year, Asia-Pacific was the dominant PET exporter in the world, whilst Europe imported the largest volume of PET.
The PET market is poised to experience positive growth in the upcoming years, driven by a combination of factors such as rapidly increasing global population, improving life standards worldwide, the rising demand from end users, and the upcoming launches of a variety of PET projects. In 2015, the global PET production is likely to exceed 24.39 million tonnes.
More information on the PET market can be found in the study "Polyethylene Terephthalate (PET) 2013 World Market Outlook and Forecast up to 2017".