Acrylonitrile-butadiene-styrene copolymer (ABS) is recognized as the largest-volume engineering thermoplastic resin, mainly used in the extraction and injection moulding. Due to the product's structure and composition flexibility, ABS can has a broad spectrum of unique properties, allowing it to be used in diverse application areas. ABS is made use of in numerous industries, with automotive sector being one of the major application areas. Other ABS end-use sectors include, among others, aerospace, electronics, construction, domestic appliances industry, etc.
As of 2012, the world's total production capacity of acrylonitrile-butadiene-styrene copolymer (ABS) was estimated at more than 9.5 million tonnes. Asia-Pacific accounted for around 80% of the global ABS capacity.
World ABS capacity broken down by region, 2012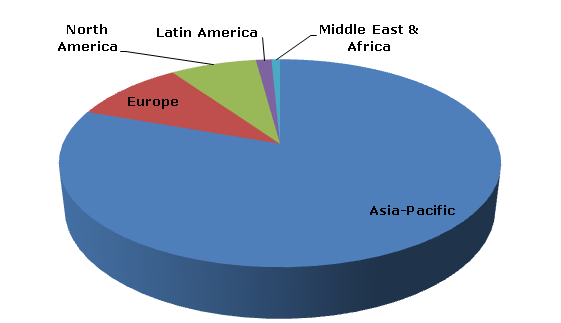 Techno Polymer, Styron, PetroChina, Tianjin Dagu Chemicals, Toray Industries, Sabic Innovative Plastics, Samsung Cheil Industries, Ningbo LG Yongxing Chemical, LG Chem, Formosa Plastics Group, Styrolution and Chi Mei Corp are among the dominant companies involved in the world ABS industry.
The global ABS foreign trade volumes and value were on an upward trend during the past few years. In 2012, the value of the world's ABS foreign trade was worth over USD 9 billion. In the same year, Asia-Pacific was the both the leading exporter and importer of ABS in the world.
In the forthcoming years, the global ABS demand is likely to be driven by the Asia-Pacific region, with the highest demand expected to be registered in India, China, Taiwan, Japan and Korea. Expanding use of other thermoplastics, such as polystyrene and polypropylene, is expected to pose the major challenge for the world ABS market. Hazardous monomers used in ABS production represent one more factor which can lead to the slowdown of the ABS market growth.
More information about the ABS market can be found in the study "Acrylonitrile-Butadiene-Styrene Copolymer (ABS): 2014 World Market Outlook and Forecast up to 2018".