In 2013, the global sodium cyanide capacity was approximately 1.3 million tonnes. Region-wise, APAC had the largest capacity (appr. 700,000 tonnes per year), with North America and Europe also being in the top three. A share of APAC in the global capacity was over 67 percent, while North America and Europe held capacities of 19 percent and 18 percent, respectively.
Sodium cyanide capacity broken down by region, 2013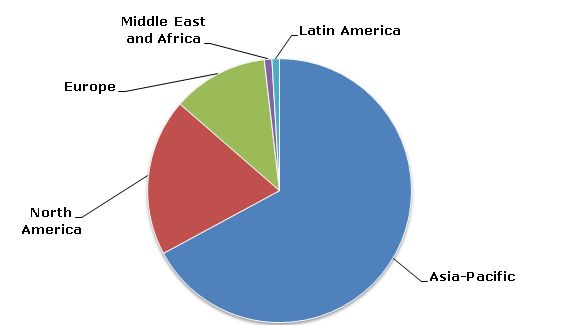 Country-wise, China was a global leader in terms of the capacity in the same year, with the USA, Australia and South Korea lagging behind.
The recession of 2008-2009 hit the industry and led to the slowdown of the market growth. However, the market continued growing in 2010. In 2011, the sodium cyanide production surpassed the 760,000 tonnes mark. In 2013, it amounted to around 880,000 tonnes. The growth was spurred by new capacities in South Korea, the USA and Russia.
APAC accounted for more than 65 percent of the global production volume in 2013. North America and Europe were other prominent producers.
The global sodium cyanide consumption has regular growth over the past few years. For instance, it stood at just over 770,000 tonnes in 2011, while it was more than 878,000 tonnes in 2013.
APAC is the largest consumer of sodium cyanide. In 2013 alone, it accounted for more than a half of the global demand. Europe and Latin America also consume significant volumes of sodium cyanide.
Global sodium cyanide consumption broken down by region, 2013 (tonnes)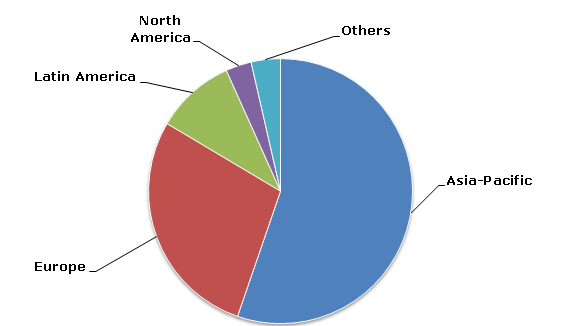 The global sodium cyanide production is expected to grow by around 4 percent on an annual basis in the years to come. In 2017, for instance, it is forecast to be over 1 million tonnes.
The demand is expected to grow in a stable manner as well. As a result, the global consumption volume is predicted to be approximately 1.07 million tonnes in 2018.
More information on the ethylene dichloride (EDC) sodium cyanide market can be found in topical research study "Sodium Cyanide: 2014 World Market Outlook and Forecast up to 2018".