Steel supply and demand reflect, though with some time lag, global and regional macroeconomic trends. These macroeconomic trends may vary in its temporal dimension since, for instance, the curtailments in the US steel industry of the 1980ies, caused by growing environmental concerns and other factors, had a long prehistory and were more akin to a lasting process, whose post-war development was slow but inevitable. Just on the contrary, a palpable example of how the macroeconomic situation could provide almost immediate impact on the steel market is the economic crisis of 2008-2009, when the demand for steel slumped, closely following the reductions in main steel-consuming sectors. However, steel production during this crisis did not react promptly enough, leading to market oversupply, which is evident even today.
Crude steel: structure of the global production (2005-2013)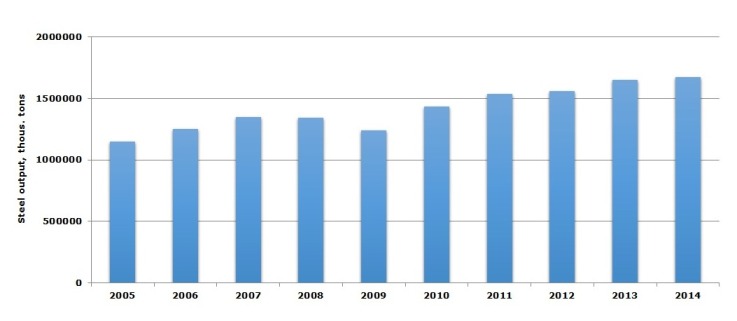 Current economic uncertainty in America and Europe, economic slowdown in China (coupled with China's moves to cut steel production due to huge environmental concerns, backed up by its ratification of the Paris Summit climate agreement, alongside with the US), stagnating Japanese economy, plus continuing reduction in general steel usage ratios in many appliances and products – all these factors may brought steel production and demand to some form of equilibrium.
More reliable information on the world's steel market can be found in the insightful research report "Steel Industry: 2016 Review and Forecast".