The thriving global mining sector remains the cornerstone of the market for sodium cyanide, which is indispensable in mining operations, especially in gold and silver processing. Whenever the mining sector is at risk (due to the lack of reforms, protective legislation or insufficient financing), the situation on the sodium cyanide market deteriorates. As gold cyanidation is an important process for many mining firms, this definitely drives the interest towards sodium cyanide. As a result, the existence of a causal relationship between mining sector status, demand for gold or silver and sodium cyanide market behaviour is quite realistic, and nearly all global sodium cyanide market leaders have a vibrant mining industry.
Sodium cyanide: structure of the global capacity broken down by country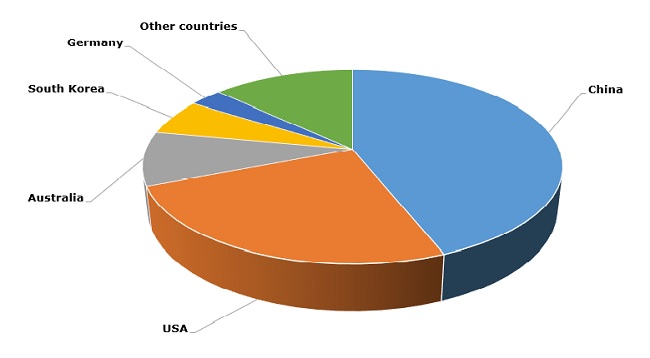 The striking example of this relationship is Mexico, where the reforms in the mining sector did have a very positive effect on the sodium cyanide market. The prospects of the Mexican sodium cyanide market have been fully recognized by key market producers. For instance, Chemours (the world's largest producer of solid sodium cyanide) has recently started the construction of a new manufacturing facility named Chemours Mining Solutions (previously known as Cyanides business product group and renamed to Mining Solution) in the state of Durango, Mexico. In February 2017, CyPlus Idesa, a JV between German Evonik and Mexican Grupo IDESA, opened a 40k mt/y sodium cyanide plant in Coatzacoalcos, state of Veracruz, Mexico.
More information on the sodium cyanide market is available in the in-demand research report "Sodium Cyanide: 2017 World Market Outlook and Forecast up to 2021".