The importance of maleic anhydride as a vital chemical intermediate used in a vast range of products is an undisputed fact. As such, maleic anhydride indispensability for multiple industries and large dependence on Asia for its supply create prerequisites for the situation when any tightness in the Asian market is instrumental for its price spikes and curtailed exports to other markets.
Maleic anhydride: structure of the global capacity by region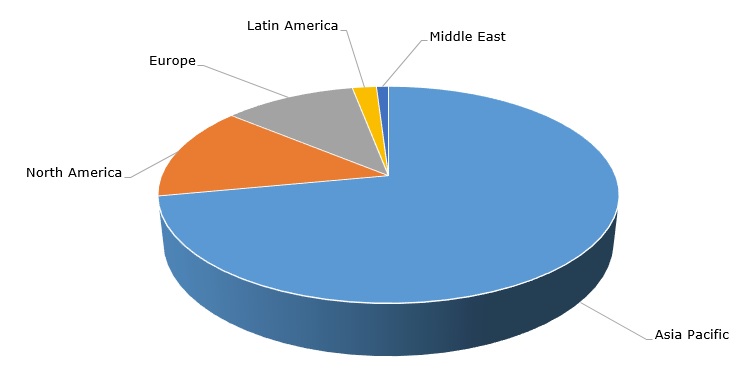 Recent measures undertaken by the Chinese government to reverse the serious environmental situation in the country are having and will have a huge impact on the global chemical and industrial landscape worldwide. It is for the first time when the seriousness of the situation is coupled with the seriousness and firmness of the Chinese government to improve the state of affairs with respect to air pollution and other environmental hazards.
The understanding that the environmental Kuznets curve may not be applicable for present-day China has finally started to generate ideas and decisions which drastically affect the production of various chemicals. The market for maleic anhydride is not an exclusion.
Key stakeholders in the European maleic anhydride market have already encountered with recent reductions in the maleic anhydride supply from Asia, which provides an upward pressure on maleic anhydride prices. This became evident in early 2018, and this trend may strengthen throughout the year.
The large potential on the maleic anhydride market rests with those manufacturing and engineering companies that produce and develop in a cleaner, safer and less ecologically harmful way. Actually, the butane-to-maleic anhydride conversion route was an example of similar efforts, while the maleic anhydride market has a long history of production technology optimization and innovation.
More information on the maleic anhydride market can be found in the in-demand research report "Maleic Anhydride (MA): 2018 World Market Outlook and Forecast up to 2027".