Nitrile-butadiene rubber (NBR) comprises a family of synthetic rubber copolymers of acrylonitrile and butadiene. This generic status of NBR means that rubber compounders can flexibly adjust product parameters and properties (processability, oil/fuel resistance, tensile strength, heat ageing, etc.) by experimenting with acrylonitrile content or by other means subject to requirements of the end market. Such flexibility helps NBR to fit into the markets for various products, including cabling/belting, seals, latex applications, molded and extruded products, adhesives, sealants, footwear, fabrics and oil field products.
Nitrile-butadiene rubber: structure of the consumption by applications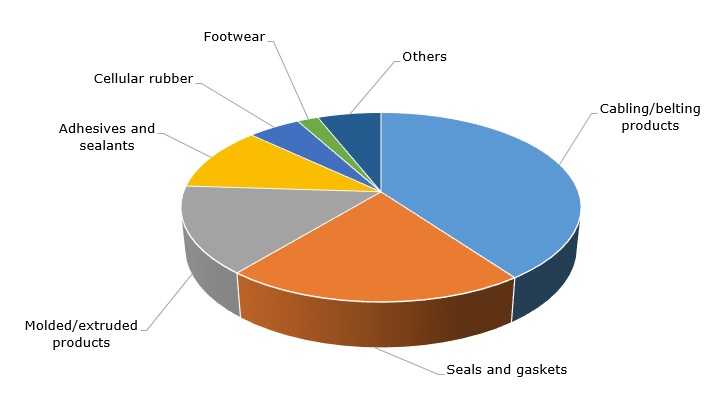 Many of these markets are highly volatile and cyclical, so manufacturers have to act accordingly by diversifying their businesses and upgrading product ranges. When market or other conditions dictate, producers may switch to styrene-butadiene elastomers and acrylic latex products, though NBR-centered customized solutions can often outperform rival products, for instance, in resistance to degradation by oil and fuels over a wide temperature range.
NBR producers may also fine-tune capacity utilization rates or resort to mergers and acquisition (M&A) deals. For instance, German specialty chemicals company Lanxess, a major producer of synthetic rubber and specialty elastomers, keeps a broad and flexible portfolio of synthetic rubbers (e.g., NBR/hydrogenated NBR, polychloroprene, styrene butadiene, ethylene-vinyl acetate, ethylene-propylene-diene monomer, etc). The company also dynamically adds or downsizes elastomer grades to keep up with the times. The vivid example of the latter is manufacturing of bio-based, 'green' and ecologically friendly grades (e.g. Keltan Eco EPSM elastomers). As for M&A activities, the establishment of ARLANXEO, which is a joint venture between LANXESS and Saudi Aramco, is a fine example of how the efforts and expertise of two major chemical companies can originate a truly global leader in specialty rubbers and high-performance elastomers. When Lanxess (actually a Bayer's spin-off) decided to spin off its rubber business, it became a manifestation of how this business can be optimized and streamlined.
Therefore, flexibility and readiness to respond in a proactive manner to market requirements lie at the core of NBR-related business.
More info on the nitrite-butadiene rubber market can be found in the in-demand report "Nitrile Rubber (NBR): 2018 World Market Outlook and Forecast up to 2027".