Bentonite is a highly versatile industrial clay with diverse application areas including foundry sand binders, pet litter, iron ore pelletizing, mud drilling, agriculture, industrial absorbents, amid others. It is also quite often used an ingredient involved in innovations and high-tech commodities. A vivid example of such an innovative commodity could be bentonite-based nanoclays under the tradename of "Nanomer", which form a near-molecular blend called a plastic nanocomposite when dispersed in a polymer matrix (Nanomer is manufactured by Amcol's subsidiary Nanocor).
Wide versatility and value-added potential, coupled with non-availability of substitutes in some applications, establish the solid and economically viable groundwork for bentonite market behaviour. Of course, the 21st century is able to expose the bentonite market to serious challenges, which is actually predetermined by a cyclical and dynamic nature of every market for every product.
The imminent challenge might be the depletion of long-operating bentonite deposits, many of which have been extensively mined for a significant period (e.g. Bentonite Performance Minerals' deposit in Wyoming, the US). To this extent, bentonite resources in developing countries will start to come to the forefront, which may decrease the US market share, especially in lower graded bentonite clays. However, this may not happen due to the US innovation in mining technologies and resource exploration.
Moreover, world bentonite resources are quite large and dispersed on the globe, with calcium bentonite (smectite) in bigger abundance as compared to sodium bentonite minerals.
Bentonite: structure of the global production by country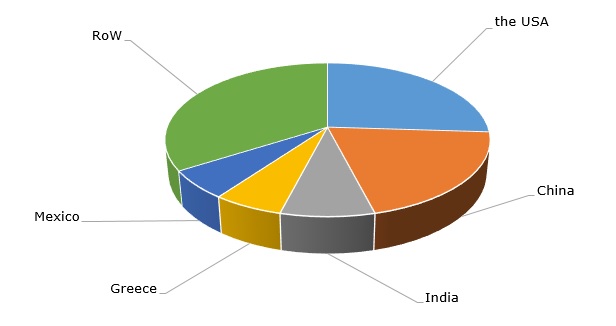 To this extent, from the corporate perspective, the depletion of national bentonite resources, though dangerous, might not be that critical as transnational companies operating on this market will be able to geographically expand their mining facilities in order to tackle with the depleting national resources.
More information on the global bentonite market can be found in the in-demand research report "Bentonite: 2018 World Market Review and Forecast to 2027".