Selenium is a relatively rare non-metal element which finds uses in multiple high-tech industrial products and applications, including photovoltaic cells, AC-to-DC electrical converters, specialized low-conductance sheet glass, human dietary supplements, cosmetics, steel alloys, catalysts, medicinal compounds, etc. Major selenium reserves are located in China, Chile, Russia, and some other countries.
Selenium: structure of the global reserves by country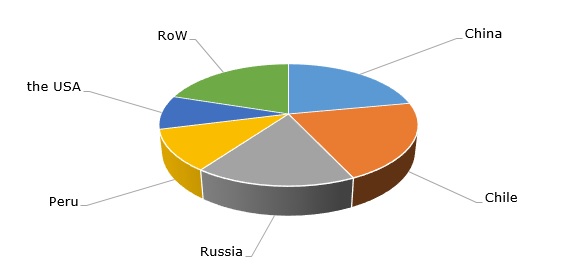 Selenium is also an essential trace element for humans and other animals so its inclusion into the content of livestock supplements and fertilizers for selenium-poor soils is indispensable. Numerous researches indicate that selenium shortage may lead to the development of muscular disorders, thus highlighting the importance of selenium for muscle functions. Currently, selenium-enriched fertilizers are used in China, Finland, New Zealand, United States, and other countries to get selenium into the food chain. At the same time, the potential role of selenium compounds in cancer chemotherapy applications is being actively studied, which drastically changes the image of selenium as a toxic agent (this image was prevalent in literature about 20 years ago). Other researchers try to uncover the role of selenium in immune responses, intensive care, sepsis prevention, and other healthcare applications. However, excessive selenium amounts can be detrimental for human and livestock health. For instance, in September 2018 Hurricane Florence resulted in the pollution of North Carolina's Cape Fear River with selenium and other metals. Selenium occurred in coal ash dumps of the local power plant owned by Duke Energy Corp. Moreover, selenium in trace amounts demonstrates selective toxicity, and its exposure may act as a possible risk factor of amyotrophic lateral sclerosis. Thus, the large potential of selenium in healthcare applications must not be blemished by the cases of selenium-based contamination of soil and drinking water. If the latter gets sufficient publicity, the selenium marketability will definitely suffer.
More information on the global selenium market can be found in the in-demand research report "Selenium 2018: World Market Review and Forecast to 2027".