The global and regional markets for adipic acid (ADPA) are volatile, with supply-demand balance, seasonality, turnaround schedules, production disruptions, facility expansions and environmental regulation acting as major factors affecting the markets. However, the fundamentals of these markets remain strong. The demand for adipic acid is robust, though the fluctuations of this demand are common. Adipic acid maintains its role as an important intermediate in the production of nylon-6,6, polyurethanes, adipic acid esters (e.g. plasticizers for PVC) and other products. For instance, in Northern America, about 85% of adipic acid is used for manufacturing nylon-6,6, while the other three consumption segments occupy rather equal shares of around 5%. It is estimated that the global demand for nylon-6,6 will continue to grow by 3 to 4 percent per year. The manufacturing facilities for the adipic acid production are rather scarce and the market is fairly oligopolistic. Solvay, Haili Chemical Industry Co., Ascend Performance Materials (founded by SK Capital, which purchased nylon business from Solutia), Invista, Chongqing Huafon Chemical Co., Ltd, and BASF AG control more than a half of the global adipic acid production.
The healthy adipic acid market environment characterises the current situation on the Chinese market for adipic acid. As with nearly all chemicals, the country is the number one manufacturer of adipic acid in the world.
Adipic acid: structure of the global production capacity by country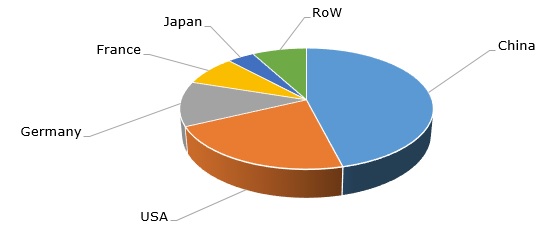 With a growing consumption, rising exports and rather stable prices (though there was a price decrease from about USD 1280/tonne in mid-March 2019 to about USD 1170 in early June 2019), the local adipic acid industry can withstand various challenges. These challenges may primarily refer to the implementation of the stricter emission standards with respect to air pollutants (effective March 2018), endorsed by the Chinese Ministry of Environmental Protection for 2 municipalities (Beijing and Tianjin) and 26 other cities in 4 provinces (Hebei, Shanxi, Shandong, and Henan).
Adipic acid production is often associated with the emission of excessive amounts of nitrous oxide (N2O), which may contribute to global warming and ozone depletion. In the late 1990s, all major adipic acid manufacturers employed technologies (e.g., thermal destruction and catalytic destruction) to reduce the level of N2O emissions, which resulted in the substantial decrease of such emissions. Adipic acid production is also responsible for the emission of non-methane volatile organic compounds (NMVOCs), carbon monoxide (CO), and nitrogen oxides (NO x). However, adipic acid production could be also linked to the use of lignocellulose-based feedstock for biobased adipic acid manufacturing. This may open a new era of penetrating greener technologies into the adipic acid industry.
More information on the global adipic acid (ADPA) market in the in-demand research report "Adipic Acid (ADPA): 2019 World Market Outlook and Forecast up to 2028".