China is a leading player in the global market for sodium sulphate with respect to both consumption and production. China accounts for almost 60% and 64% of sodium sulphate production and consumption worldwide, respectively. Its sodium sulphate production significantly exceeds domestic consumption, which leads to substantial export (over 3 million tonnes/year) of Chinese sodium sulphate to other countries, mainly Brazil, Viet Nam, Bangladesh, Indonesia, Saudi Arabia, Thailand, and Philippines. This country features significant mirabilite and glauberite resources, used as a sodium sulphate feedstock (about two-thirds of sodium sulphate is produced from mirabilite).
Sodium Sulphate: structure of the global production by country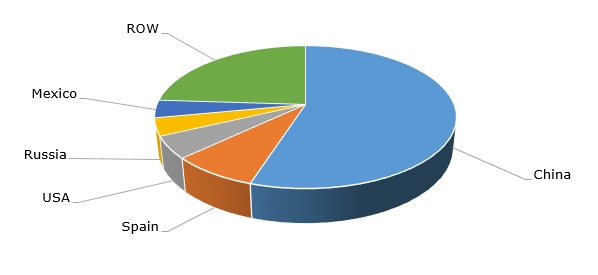 Nafine Group International Co., Ltd. (China), which is the world's largest sodium sulphate manufacturer with a production capacity of 3 million tonnes of sodium sulphate, mines its resources at 132-sq.km Yuncheng Salt Lake (Shanxi province, Northern China). Nafine's resources are also located in Jiangsu, Sichuan and Hunan provinces. With the help of the strong resource base, the company manufactures a wide range of intermediate and end products. Apart from anhydrous sodium sulphate, the company manufactures sodium sulphide, precipitated barium sulphate, sodium hydrosulphide, barium chloride dihydrate, caustic soda, etc.
Sodium sulphate is a versatile product with applications in different areas, including the production of soaps and detergents, wood pulp, glass, textiles, starches and animal feed. Nafine Group is one of the biggest manufacturers of detergent powders and soaps in China. Nafine distributes its cleaning products under the brand name of "Keon". The brand is quite popular and comprises a diversified portfolio of good quality and affordable products. As such, Nafine operates as a vertically integrated group of companies: it mines and processes mineral resources, manufactures a wide range of intermediate and end products and markets them under proprietary brands.
More information on the global sodium sulphate market can be found in the in-demand research report "Sodium Sulfate: 2020 World Market Outlook and Forecast up to 2029".