Diatomite, also known as diatomaceous earth or kieselgur, is a naturally occurring mineral. It has a minimal detrimental effect upon humans and the environment, though the issue of diatomite waste disposal can be quite serious if protective measures are neglected. An advantageous combination of useful properties (high porosity and absorptivity, extra purity, opacity, inertness, and rigidity) makes diatomite a multifunctional commodity with a range of interesting applications. Globally, its key application areas include filtration (50%), lightweight aggregation (30%), filling (15%) and other (5%). Regionally, the shares of these application segments vary. Product-wise, diatomite is used in filtration aids (e.g. for swimming pools and beverages), ingredients of cosmetic and personal care products, mechanical insecticides, pet litter, insulation materials, medicines, to name only a few. The variability of diatomite grades (natural, calcined and flux-calcined) increases the flexibility of its application and assortment diversity of diatomite-based products.
Diatomite is mined in many countries, and its mining is spread over different world regions. Diatomite reserves are abundant (estimated at 1 bn tonnes), while the mineral has a high value of reserves-to-production ratio (the annual diatomite production stands at about 3 mln tonnes).
Main diatomite-producing countries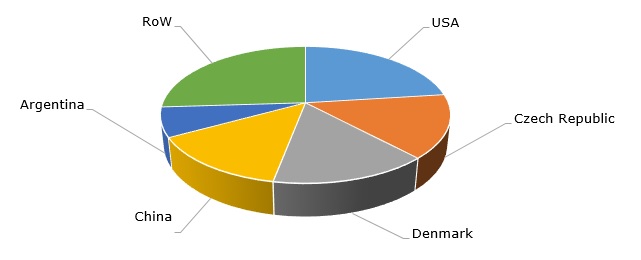 The demand for diatomite and its products is susceptible to large fluctuations. Currently, the demand for high-purity diatomite has been growing, especially in Asia-Pacific and North America, and primarily in the filtration sector. However, the alternatives for diatomite are being developed, including in the beverage filtration segment. The presence of alternative products poses a threat to the diatomite market. Apart from that, diatomite is a large tonnage and bulky commodity, and its quarry mining and further processing are highly energy-intensive (the locations of two operations are usually closely coupled).
All these factors affect the profitability margins of the whole diatomite sector, make its operation a risky endeavour and complicate the choice of a correct business strategy. Therefore, French-headquartered Imerys Group, the world's largest diatomite manufacturer and the global leader in mineral-based specialty solutions, relies on vertical integration, systemic approach, innovation, flexibility and richness of product portfolios, streamlined organizational structure, reasonable M&A strategy, as well as building strong relationships and networks. Despite this well-balanced policy, the business operation of Imerys Group in 2019 was not particularly successful. The company was hit by tough market environment conditions (weakness in many consumption markets both in the US and Europe), deconsolidation of some of its US businesses and shutdown of its Willsboro plant (USA), which resulted in the decline of sales volumes. Imerys Group will address these issues via cost reduction measures and further transformation of its key businesses.
Find a comprehensive analysis of the global diatomite market in the insightful research study "Diatomite: 2020 World Market Review and Forecast to 2029".