Kaolin group of minerals (kaolinite, dickite, nacrite, and halloysite) combines important industrial mineral products used in a variety of applications, including the manufacture of fire retardants, paper, and cardboard (for filling and coating), ceramics and porcelain, rubber products, paints, cosmetics, adhesives, building-type commodities, to name only a few.
Kaolin-based manufacturing is characterised by a large degree of versatility and flexibility, which allows considering its output within the service-dominant logic or solutions rather than simply separate products. For instance, in the paper and packaging sector, kaolin solutions can include calcined (metakaolin), hydrous, delaminated and blended options, flexibly varying in optical and abrasion properties, opacity and brightness, coverage capacity, gloss, printability, ability to blend well with carbonate, etc. This helps to use kaolin in a vast range of paper applications and typographic processes. A good example to illustrate this is the activity of Thiele Kaolin Company (Sandersville, Georgia, US). It offers multiple kaolin-based commodities, fine-tuning their properties for the needs of specific customers and unique applications. Thiele Kaolin Co. manufactures a flexible and dynamic range of products for various uses, putting a larger focus on the paper and packaging sector. It goes in line with the demands of the US kaolin market where the paper industry is the largest outlet for kaolin.
Structure of the US kaolin market by application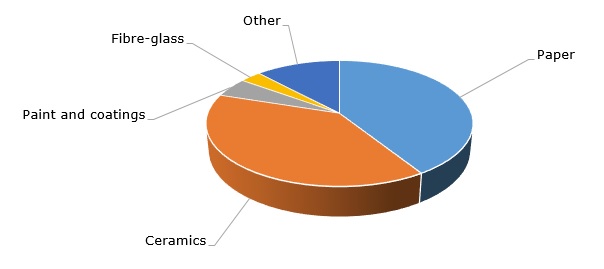 Other major kaolin-producing companies (e.g. BASF SE, Kaolin AD, Imerys, Quarzwerke Gruppe, LB Minerals, Ltd., I-MineralsInc., Sibelco, etc.) follow the suit. Many of these companies operate as vertically integrated entities, deeply engaged in both incremental and radical innovation. As such, they innovate each element of their operation, starting from kaolinite exploration, processing, and manufacturing technologies to material provision for specific applications and optimising their business models. They could also allocate special small teams of their employees who engage in innovation and venturing on a regular basis. Likewise, Sibelco (Belgium), a global material solutions company, acts in a similar vein by innovating each element of its operation, creating central innovation hubs in each of its operating regions.
The implementation of innovative strategies is vital in the mineral industry, often confronted by dwindling resources, stringent ecological regulation, and rising mining/processing/manufacturing costs. To operate in such challenging environments, a company needs to think strategically. For instance, I-Minerals Inc., a Canadian based exploration and development company put a primary focus on the development of its Helmer-Bovill Project in north-central Idaho that contains significant reserves of quartz, feldspar, halloysite, and kaolin. The recent pre-feasibility study (finalized in early March 2020) confirmed the prospective status of this project. This is an example of a strategic vision of the company's corporate management which took a decision to concentrate on the production of halloysite and metakaolin. I-Minerals Inc.'s management, headed by John Theobald, argues that the growing market of halloysite and metakaolin offers much better business opportunities. The decision to concentrate on metakaolin and to market it under the brand name of Bovill Metakaolin also reduces the need to compete on very price-sensitive markets.
A detailed analysis of the global kaolin market can be found in the in-demand research report "Kaolin: 2020 World Market Review and Forecast to 2029".