Acetal polymers, also known as polyoxymethylene (POM) or polyacetals, belong to the class of aliphatic polymers. They have been on the market since the 1950s, starting from the time when they were made sufficiently stable to be used in commercial applications (e.g. commercial production of polyformaldehyde by DuPont under the tradename of Delrin® in 1959). Polyacetals are now in the established category of formaldehyde-based engineering thermoplastics. They are available as homopolymers with their excellent mechanical properties (e.g. DuPont's Delrin® or Asahi's Tenac®) or as copolymers with superb thermal and chemical stability [e.g. Ticona/Celanese Corp. (brands Celcon® and Hostaform®), BASF (Ultraform®), Polyplastics (DURACON®), and Mitsubishi (Iupital®)]. All polymers have applications in electrical and electronics industries, automobile sector, construction, packaging, and many other sectors. Likewise, polyacetals find application in gearboxes, conveyor belts, valves, consumer electronic devices, garden equipment, footwear, nuclear engineering components, toys, ski bindings, watches, medical delivery devices, to name only a few. Subject to required functionality, POM's molecular weight and polymer properties could be fine-tuned to suit multiple applications owing to a wide range of adjustments available to polymer science.
This functional flexibility and versatility of applications of the polyacetal products are one of the main factors that help to combat the consequences of the current economic recession caused by the COVID-19 pandemic. Despite the current slowdown in the pandemic development in many parts of the world thanks to the aggressive measures taken, the economic aftermath of multiple lockdowns is taking its toll, leading to subdued sentiment, profit margin reductions, sales drops, raw material procurement issues, as well as job redundancies. For instance, this becomes clear in the Chinese polyacetal sector, where the current mood remains largely pessimistic.
Polyacetals: structure of the global production capacity by country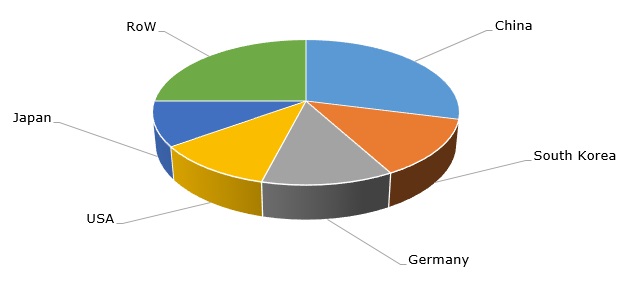 The current picture of the polyacetals market behavior looks largely fragmented by region, country, industrial sector, and individual player. It becomes evident that multiple manufactures confronted this dire situation with multi-faceted contingency plans, inventory rearrangements, adjusting capacity utilization rates, applying more flexible business models, restructuring dividend payment plans, close-eye monitoring of future developments, altering marketing strategies, new partnership policies, better messaging and CSR campaigns (incl. donations), reserve-accumulating financial measures, etc. Sector-wise, the situation is also varied. For instance, DuPont is currently idling several plants, including those manufacturing polyacetals, in the company's transportation and industrial segments. It is a clear response to the massive downturn of the automobile sector, where car sales dropped by almost 90% in some regions and by 40% globally. In this situation, the launch, by Polyplastics, of a new DURACON® POM grade with improved diesel fuel resistance for auto fuel components is occurring in a very troublesome market environment. On the contrary, medical applications of polyacetals will continue to thrive in the nearest future.
More reliable information on the global polyacetals market can be found in the insightful research report "Polyacetal (Polyoxymethylene, POM) 2020 World Market Outlook and Forecast to 2029".