Amorphous polymers form an extensive group of chemical products of both low-performance (commodity types), mid-range, and high-performance character. The latter (i.e. high-performance amorphous polymers) constitute a small assortment of specialty polymers, which demonstrate high values of temperature resistance, as well as a range of other advanced properties (e.g. low water absorption, excellent impact strength, good chemical resistance, etc.). High-temperature high-performance amorphous polymers include polyarylsulfones [i.e. polysulfone (PSU), polyphenylsulfone (PPSU), and polyethersulfone (PESU)], polyetherimide (PEI), and some other products.
Structure of the global market for high-performance amorphous polymers by an individual product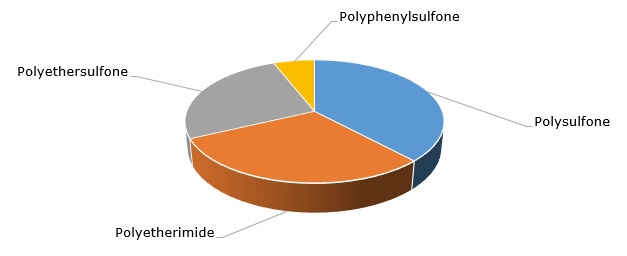 High-performance polymers actually represent huge portfolios of various formulations, which can be customised subject to specific, often stringent, needs, and fields of application. For example, Solvay's portfolio of high-performance polymers features 1,500 products spread across 35 brands, like Udel for PSU (polysulfone), Radel for PPSU (polyphenylsulfone), and Veradel for PESU (polyethersulfone).
Solvay, one of the largest manufacturers of polyarylsulfones, produces sulfone polymers at its facilities in Marietta (Ohio, US), Augusta (Georgia, the US), and Panoli (Gujarat, India). About a year ago, Solvay started a new Veradel PESU line at its plant in Panoli, India. This goes in line with the company's strategic decision to boost high-performance sulfone polymer production by more than 35% by 2022 (currently company manufactures approx. 36,000 tonnes of polyarylsulfones per year). In the current highly turbulent macroeconomic environment, aggravated by the Covid-19 pandemic, this decision, made several years ago, might seem risky. However, it might be totally justified as polyarylsulfones feature extreme versatility of application, including such highly important areas as medical technologies, water purification (PSU and PESU membranes are used in water treatment), personal care, household commodities, and the agro/food industry. According to recent Solvay's reports, its sector of specialty polymers is doing fine despite the economic crisis, which severely affects such sectors as mobility, oil & gas, and construction. Solvay's net sales of specialty polymers remained almost unchanged and demonstrated even slight growth – EUR 481 mln in Q1 2020 as compared to EUR 480 mln in Q1 2019 (+0.1%). Solvay believes that despite current uncertainties and challenging conditions, the sector of specialty polymers will perform well in 2020 and the market reinvigoration will start already in Q4 2020, which may look optimistic.
As for BASF, Solvay's close competitor on the market for polyarylsulfones, its operation in the sector of specialty polymers is also quite successful. BASF produces polyarylsulfones under the tradename of Ultrason. Ultrason acts as a common name for BASF's product range of polyethersulfone (Ultrason E), polysulfone (Ultrason S), and polyphenylsulfone (Ultrason P). BASF produces Ultrason in Ludwigshafen (Germany) and Yeosu (Korea). The current Ultrason production capacity reaches 24,000 tonnes per year. Ultrason's uses include the consumer, electronics, automotive, and aerospace industries, which are now adversely influenced by the crisis. This poses certain risks for BASF. However, BASF is well prepared to address these risks due to its increased focus on innovation. The recent BASF's developments in the domain of polyarylsulfones manifest the company's technological prowess. In this regard, one can mention such BASF innovations as the world's first particle foam based on polyethersulfone. The foam can be used in complex-shaped components of cars, airplanes, and trains, where exploitation requirements could be the most challenging. Other innovations include new sandwich structures for airplane interiors made on the basis of Ultrason E polyethersulfone or the use of high-purity Ultrason E polyethersulfone for ultra-filtration water treatment membranes.
These facts suggest that the market for polyarylsulfones is steadily developing amid current uncertainties. The flexibility of polyarylsulfone manufacturers, which are multinational companies with significant technological potential, can prevent the market from a certain degree of polyarylsulfone excessive production capacity. This excessive capacity of the polyarylsulfone market has been evidenced for some time now, and it may provide a challenge during the current crisis.
More information on the global polyarylsulfones market can be found in the comprehensive research report "Polyarylsulfones (PSU, PESU, PEI, PPSU) 2020 Global Market Review and Forecast to 2029".