The current state of the market for bentonite and its products is negatively impacted by the ongoing COVID-19 pandemic. The pandemic reduced the overall demand in multiple bentonite-consuming sectors, deteriorated the functioning of distribution networks, and violated the operation of manufacturing facilities and other entities. Numerous bentonite market leaders have already announced a significant drop in sales and incomes. For instance, the US company Minerals Technologies Inc., which acquired AMCOL International Corporation in 2014, reported a 10% decrease in sales in its minerals business segment during Q3 2020 as compared to the same period a year earlier. However, the company shows a robust recovery rate as its sequential performance is improving.
Another recognised bentonite market leader, Clariant, demonstrated similar performance. Its sales decreased by 7% (in local currency) during Q3 2020 following a significant negative impact of the pandemic on several of Clariant's key end markets. The company confirmed the quick recovery in Asia-Pacific and Latin America, while such regions as North America, Europe, and the Middle East & Africa continue to struggle. Europe, Asia-Pacific, and North America are currently the three key regions for Clariant with 34%, 26%, and 20% in sales from continuing operations, respectively (the Clariant's sales growth rate in Asia-Pacific is the largest as compared to other regions).
Structure of the global bentonite consumption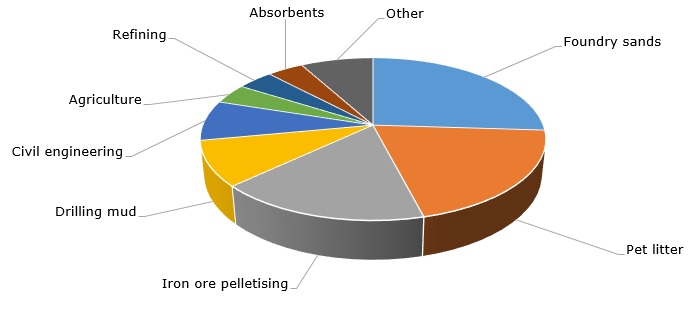 The above facts and figures from the key bentonite manufacturers actually confirm the high level of bentonite market resilience. The bentonite is known to be a mineral of thousand uses, which provides a capacity to offset negative impacts on certain bentonite-consuming segments by the strong performance of other segments. For instance, the market for water treatment chemicals, including those based on bentonite, is driven by population growth, increasing urbanization, and ensuing environmental concerns. The market for specialty chemicals used in water treatment is currently worth over USD 45 billion and is expected to grow by 5.5-6% per year in the nearest future. Bentonite application in this segment has particularly bright prospects.
Other bentonite-consuming sectors, like construction or the oil and gas industry, are significantly aggravated by the pandemic-caused crisis. However, key bentonite manufacturers (e.g. Emerys) develop their products for these sectors and maintain leadership positions by relying on the principles of sustainable development and innovation, as well as by operating unique portfolios of mineral resources and a wide range of exclusive technologies. This assists in mitigating the current challenges even in the sectors where the fall in the demand for bentonite products was the most dramatic.
A detailed analysis of the global bentonite market is available in the in-demand research report "Bentonite: 2020 World Market Review and Forecast to 2029".