The trends in the global cumene market are guided mainly by its important role in combined phenol/acetone production. Phenol and acetone production, in turn, leads to the manufacture of multiple chemical intermediates (methyl methacrylate, bisphenol-A, etc.) and end products, including plastics (further processed into automotive parts, mobile phones, etc.), paints, coatings, adhesives, solvents, synthetic fibres, insulating materials, medicines, construction materials, herbicides, photo materials, aromatic essences, to name only a few.
The global Covid-19 pandemic severely impacted many industries and markets, including the chemical sector, as well as challenged multiple chemical supply chains and market systems. It might be counterintuitive but the negative influence of the ongoing crisis on the performance of various cumene/phenol/acetone manufacturers was not significant. For instance, in Q3 2020, sales and operating profits of LG Chem, a major cumene producer, recorded the highest ever results in the petrochemical and battery sectors. The company considered such results as "earnings surprises" and attributed the success to low feedstock prices. The same kind of successful performance by LG Chem is expected in Q4 2020, though, of course, the end-of-year seasonal factors usually slow the market down. LG Chem operates two analogous phenol/acetone plants located in Daesan and Yeosu (South Korea). Each of the plants has the same combined phenol/acetone production capacity of 300,000 mty and 180,000 mty respectively.
Anglo-Swiss INEOS Group and its subsidiary, INEOS Phenol, demonstrated similar performance results in the petrochemicals sector. With an annual phenol/acetone/cumene manufacturing capacity of over 4 mln mty, INEOS Phenol is the world's largest producer of phenol, acetone, and cumene. The company manufactures cumene at its facilities in Marl (Germany) and Pasadena (Texas, US). The cumene production capacity in Marl (Germany) will be expanded to 750,000 mty in 2021, which may signify that INEOS Phenol anticipates rather positive prospects for the cumene market. Apart from that, in January 2021, INEOS announced that it completes the acquisition of BP's global Aromatics and Acetyls business.
When the Covid-19-induced crisis started to gain momentum in spring 2020, cumene prices significantly decreased, for example, on the US market. However, then a sharp rise in cumene prices occurred in August 2020 for various reasons (mainly due to the rise in benzene prices). In general, a trajectory of cumene prices is in line with price trends of benzene and refinery-grade propylene.
Structure of the global cumene production capacity by country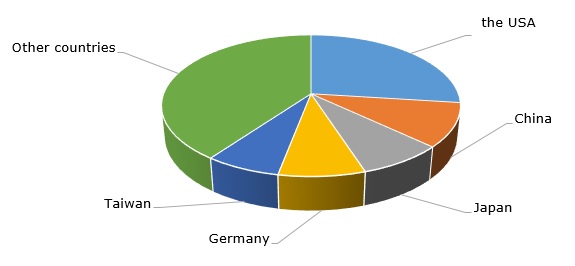 The US cumene production capacity remains the largest in the world, but Chinese capacity is expected to grow at a faster rate. On the contrary, Japan curtails the production of cumene-consuming chemicals. For instance, Mitsui Chemicals and Idemitsu decided to close their 250,000/80,000 mty phenol/acetone plant in Chiba in 2014. However, this was forthcoming because of strong competition from other Asian manufacturers.
More information on the global cumene market can be found in the insightful research study "Cumene: 2020 World Market Outlook and Forecast up to 2029".