Polycarbonates, which are linear polyesters of carbonic acid, form a group of thermoplastic polymers within an important commodity chain. This chain combines bisphenol A/phosgene or diphenyl carbonate as feedstocks and multiple end-products consumed in different areas: automotive (e.g. dashboards, side, and rear windows; light bars for headlamps), construction (e.g. canopies, soundproof walls), electrical/electronics (e.g. plugs, controls), optical media (e.g. CDs) and health applications (e.g. compression devices, drug delivery). The automotive sector is the largest polycarbonate consumption outlet. The most popular polycarbonate trade names are as follows: Makrolon/Makrofol (formerly Bayer Material Science and now Covestro, as Bayer's spin-off), Lexan/Sabic (Lexan brand was sold to SABIC by GE Plastics), Panlite (Teijin Chemicals), and Iupilon/Novarex/Xantar (Mitsubishi Engineering Plastics Corp.).
Polycarbonate grades are usually subdivided into extrusion- and injection moulding-based or into general-purpose and optical ones, though polycarbonates, as typical polymers, exhibit large variability of characteristics subject to specific and often customised application areas, as well as applicability in multiple blends and compositions (e.g. polycarbonate-ABS compositions). The latter underscores the highly innovative character of the whole polycarbonate business. Moreover, innovations refer not only to polycarbonate-based products but also to the way they are produced. For example, in 2020 Sabic decided to construct a photovoltaic solar plant at its polycarbonate facility in Cartagena, Spain. Once this plant comes on line in 2024, this will be the world's first large-scale chemical production site to be run entirely on renewable power.
The current situation in the polycarbonate market remains unbalanced with lots of uncertainty and excesses. Uncertainty derives from unclear scenarios of the pandemic development and slow rollout of vaccination campaigns in different regions. Some sectors of the economy in various places behave quite well, for instance, the US construction industry, which is a major polycarbonate consumer. The automotive sector, which was strongly hit in H1 2020 and particularly in Europe, is now on a pathway to recovery, which is stymied by the shortage of multiple components (e.g. semiconductor chips) and chemicals, including polycarbonates. The coronavirus pandemic in Asia demonstrates a patchy picture. The Chinese polycarbonate market struggled throughout 2020 but now seems in a much better position with growing demand and steady production (Asia dominates the global polycarbonate market).
Polycarbonate: structure of the global consumption by region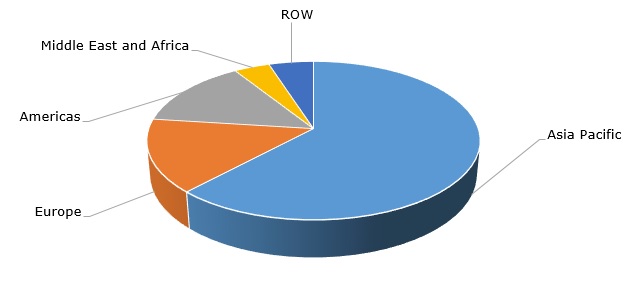 However, despite current uncertainties, which shape a somewhat bumpy road for the market's future development, the actual fundamentals of the global polycarbonate market remain strong. For instance, in Q4 2020 Covestro (Germany), one of the leading producers of high-performance polymers showed extremely robust performance in its polycarbonate division. However, Covestro is fully aware of the current uncertainties and challenging global market conditions, which was the main reason for delaying a $1.6bn-worth MDI expansion at its major manufacturing facility in Baytown, Texas. The facility manufactures polycarbonate (capacity: 260k mty) and MDI. Apart from its polycarbonate facility in the USA, Covestro manufactures polycarbonate in Belgium, China, Germany, and Thailand. Its total polycarbonate production capacity is 1.48 mln mty.
However, Sabic polycarbonate expansion plans seem operational and unaltered. Sabic (in collaboration with SINOPEC and Tianjin Petrochemical Co. Ltd) builds a 260k mty polycarbonate facility in China to be complete in H2 2021. Current Sabic's polycarbonate production facilities are located in Ichihara (Japan), Bergen op Zoom (Netherlands), Cartagena (Spain), as well as in Burkville (Alabama, US) and Mount Vernon (Indiana, US). Its total polycarbonate production capacity is 1.42 mln mty and is expected to grow in the nearest future.
More information on the global polycarbonate market can be found in the in-demand research report "Polycarbonate (PC): 2021 World Market Outlook and Forecast up to 2030".