Polystyrene and its copolymers pertain to the styrenics segment of the polymer industry and comprise an important group of plastics, alongside polyolefins and polyvinyl chloride. Expandable polystyrene (EPS), which is a rigid cellular form of polystyrene, exhibits excellent performance in multiple applications, including building and construction (esp. as insulation foams); packaging of various shapes, sizes, functionality, and customization level; electrical and electronic products; lighting; furniture; household and recreational goods; medical applications (virus detection kits, respiratory devices, safety goggles, and face shields); etc. EPS trade names include Extir (Eni/Versalis), InSphere/InPacto (Synthos Group), Kanepearl (Kaneka Corporation), King Pearl (Loyal Group), and Neopor/Styropor/Peripor (BASF and Schlaadt).
An important direction of the global polystyrene business has become the development of the so-called "circular" products, made from recycled raw materials. For instance, Trinseo, a global producer of plastics, manufactures recycled polystyrene for food contact applications, while the partnership of Versalis/Eni and Forever Plast launched a new product for food packaging made with 75% post-consumer polystyrene. Plans to build commercial polystyrene recycling plants in Europe were recently announced by INEOS Styrolution, Recycling Technologies Ltd., and Trinseo. These innovative endeavours of the styrenics industry pave its road to the future. This is vital due to the fact that the EU countries and some US states continue to adopt regulations related to the ban of various EPS products. In addition, the demand for EPS is facilitated by a need to construct energy-responsive buildings with adequate insulation properties, which is backed by low-carbon policy measures implemented in various countries. EPS also assists in diminishing the weight of cars, which may reduce energy use.
Against the background of the ongoing COVID-19 pandemic, the global EPS market is currently driven by the upward dynamics of multiple EPS-consuming sectors, including construction, food packaging, and medical devices. This upward dynamics is evident in various EPS-consuming regions, like China (with major global EPS producers, like Loyal Group and Wuxi Xingda Group) and the USA.
Expandable polystyrene: structure of the global consumption by region
.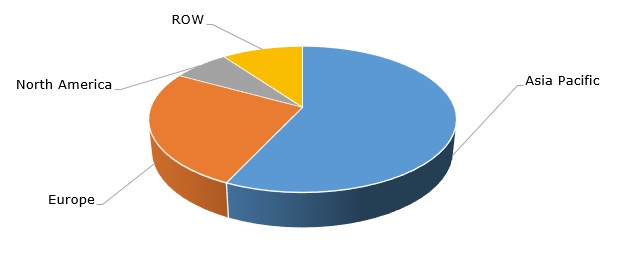 The USA accounts for a very modest share of the global EPS market. In this country, the upsurge of the construction and packaging markets, as well as the general economic rise, boosts the demand (and prices) for EPS, which leads to a rather tight situation on the US market for expandable polystyrene. The situation is complicated by the shortage of styrene, caused by the slow recovery pace demonstrated by some US styrene manufacturers after they had been affected by the winter storms of early 2021. European plants also experienced outages at the beginning of the year. Globally, it is expected that a certain state of supply and demand equilibrium will be reached in H2 2021, subject to the rate of macroeconomic development and global pandemic factors.
More information on the global expandable polystyrene market can be found in the in-demand research report "Expandable Polystyrene (EPS): 2021 World Market Outlook and Forecast up to 2030".