Epichlorohydrin (ECH) is an important chemical mainly used in the production of epoxy resins, which derive from the reaction of epoxy compounds with phenols. Apart from epoxy resins with their multiple applications in the automotive and electronic industries, epichlorohydrin finds usage in textiles, papers, inks, dyes, ion exchange resins, surface-active agents, epichlorohydrin-based rubbers, plasticizers, insecticides, and more.
The current upsurge of the global demand for various chemicals stands true for epichlorohydrin. Asia Pacific, with China, South Korea and Japan as main powerhouses of epichlorohydrin production in the region, saw a sharp rise in the demand for epichlorohydrin already in Q4 2020, which immediately affected epoxy resin manufacturers.
Epichlorohydrin: structure of the global production by country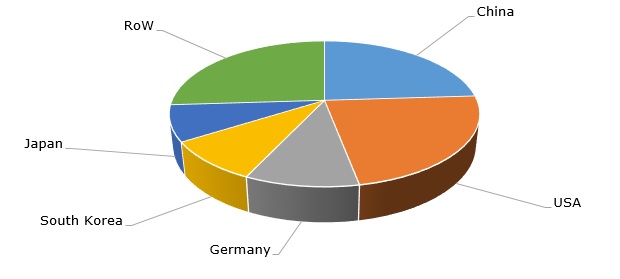 Epichlorohydrin prices are currently on the rise, while supply significantly tightened, which has all prospects to roll into H2 2021. The three largest Japanese epichlorohydrin manufacturers (Daiso Chemical, Kashima Chemical, and Sumitomo Chemical) were adversely affected by the COVID-19 pandemic in H1 2020 when Japan recorded the highest negative real GDP growth in the whole post-war period. However, early 2021 witnessed a steady recovery for these companies, though this may be attributed to the success in the sectors other than those producing epichlorohydrin, like pharmaceuticals and IT-related chemicals. The European epichlorohydrin market demonstrated a similar picture with rising demand and prices, coupled with tight supply.
An interesting direction of the market for epichlorohydrin is its production from renewable feedstock glycerol instead of the propylene route. The innovative technology of producing bio-based epichlorohydrin under the tradename Epicerol from renewable glycerol was developed and patented by Solvay. In 2018, TechnipFMC acquired this technology from Solvay. TechnipFMC sees multiple benefits in the bio-based epichlorohydrin technology since it can provide better integration with the vinyl production chain and reduce energy, water, and chlorine consumption.
More information on the global epichlorohydrin market can be found in the in-demand research report "Epichlorohydrin (ECH): 2021 World Market Outlook and Forecast up to 2030".