Purified terephthalic acid (PTA) is a large-tonnage chemical commodity and intermediate with the main outlet in the production of polyester fibre and non-fibre applications such as PET bottles, PET films, and engineering plastics. The packaging and plastics sectors are doing fine in the current unstable business environment, thus constituting bright spots for the PTA market. However, the market for polyester fibre is struggling owing to lower demand in the textile and clothing sectors, which creates bearish market sentiment for the PTA market in this area. As a result, the behavior of the PTA market is somewhat varied and ambivalent. The PTA market is also driven by paraxylene cost dynamics since paraxylene is the main feedstock material to make PTA.
Currently, Asia Pacific is heavily impacted by the Delta coronavirus variant. This impact is the hardest for Indonesia, India, the Philippines, Thailand, and Malaysia. The petrochemical sectors of these countries are under heavy pressure. This caused a sharp decline in demand for multiple chemicals and reduced production capacity utilization rates of various chemical producers in these countries. However, key PTA manufacturers in the region, i.e. China, South Korea, and Taiwan are coping with this drastic situation much better.
Key global manufacturers of purified terephthalic acid (PTA)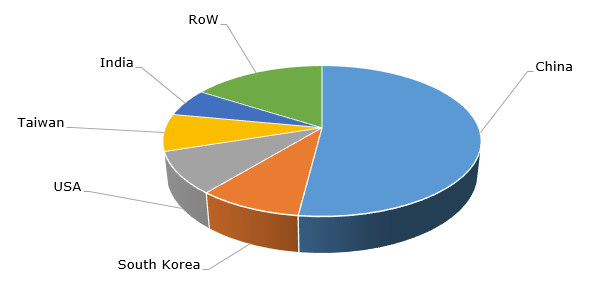 China is doing particularly well by realizing several large projects to expand PTA production capacity. For instance, Dushan Energy Ltd., a subsidiary of Xinfengming Group Co., Ltd (a major polyester producer in China), has recently completed the construction of its 2.2 mln mt/year PTA unit at Zhejiang. This was a two-stage project, which was initiated several years ago. Likewise, Fujian Billion, the largest polyester producer in south China, started its 2.5 mln mt/year PTA production facility at Quanzhou in Fujian province.
The realization of such huge projects may lead to weaker PTA margins, thus requiring turning many Chinese producers into net PTA exporters. PTA overproduction may be eased off by permanent shutdowns of older facilities. In reality, this process is currently ongoing. For instance, Yisheng Petrochemical permanently shut its oldest 650,000 mt/year PTA unit at its Ningbo site in east Zhejiang province. Sinopec Yangzi Petrochemical dismantled its 300,000 mt/year PTA unit in Nanjing. Overall, the Chinese PTA sector is powerful and vibrant with huge export potential. However, the current turbulence on the market exacerbated by the outbreak of the COVID-19 Delta variant may drastically affect the Chinese PTA sector in the nearest future.
More information on the global terephthalic acid market can be found in the in-demand research report "Terephthalic Acid (PTA): 2021 World Market Outlook and Forecast up to 2030".