Dioctyl phthalate (DOP) belongs to a class of phthalic acid esters or phthalates used predominantly as plasticizers, which are added to polymers to modify their flexibility, hardness, viscosity, processability, durability, and other vital characteristics. As such, DOP is a very important chemical ingredient. Like other heavy phthalates (e.g. diisononyl phthalate, diisodecyl phthalate, etc.), it is derived by esterification of alcohol (e.g. 2-ethylhexanol for DOP) with phthalic anhydride (PA), using a catalyst. PA is obtained from o-xylene.
Dioctyl phthalate application can be significantly compromised due to a proven record of phthalate toxicity and the ability to pose long-term health risks, which is reflected and combatted by various regulatory acts and growing litigation efforts. The relevant legislation is supported by a substantial body of research literature on high levels of phthalate exposure and their detrimental effects. The latter is a major threat to the phthalate market despite the ubiquity of phthalates in everyday products. For instance, in the US, regulation (including most recent) against the use of phthalates is adopted both at the federal and state levels, when, in addition to the standards set by the U.S. Environmental Protection Agency, multiple US states imposed different stringent measures to control phthalate use, especially in consumer products. Apart from the US market for dioctyl phthalate, these health-related concerns about the use of phthalates now have a global dimension and refer to other regional DOP markets.
Dioctyl phthalate: structure of the global production capacity by region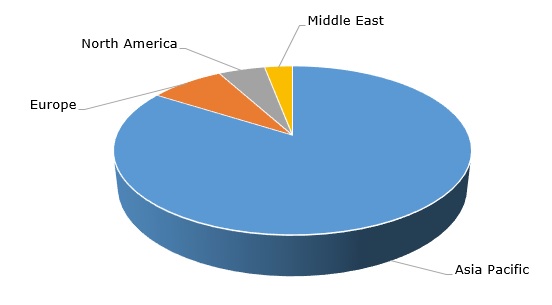 The global DOP market is heavily dominated by the Asia Pacific region. Asian producers continue to expand their DOP production capacities. Nevertheless, due to the above-mentioned health concerns associated with phthalic plasticizers, key Asian producers of dioctyl phthalate, on par with European and US manufacturers, understand the vulnerability of the market for traditional plasticizers. For instance, in 2020, Taiwan's UPC Technology Corp (UPC Group), a leading manufacturer of general and specialised plasticizers with DOP production capacity in both China and Taiwan, announced plans to expand its dioctyl terephthalate production capacity between 2021 and 2022. UPC considers dioctyl terephthalate as more environmentally friendly than traditional DOP. In 2016, UPC Nanchong completed a 120k mty DOP plasticizer plant in Nanchong (Sichuan province), while, in 2017, UPC Panjin completed a 240k mty DOP plasticizer plant in Panjin (Liaoning province). Likewise, in 2018, Aekyung Petrochemical (South Korea) opened a new plasticizer plant. However, at the same time despite these expansions and plans, these companies are aware that the market for traditional plasticizers will inevitably shrink, while the demand for safe (incl. non-phthalic) plasticizers is expected to grow at a rapid pace.
In the same vein, in 2020, Nan Ya Plastics Corporation reported about the sharp rise in the demand for plasticizers due to COVID-induced need for disposable gloves, but owing to the environmental protection policy change in China, the company is preoccupied with replacing traditional DOP with more environmentally friendly dioctyl terephthalate. It is worthwhile to mention that the most current dynamics of the Asian DOP market for Q4 2021 is characterised by softening demand for plasticizers when the market self-balances itself after being hit by rising oil prices and the upsurge in demand for plasticizers.
More reliable information on the global dioctyl phthalate (DOP) market can be found in the in-demand research study "Dioctyl Phthalate (DOP): 2021 World Market Outlook and Forecast up to 2030".