Chlorine is an important chemical commodity and intermediate used in a huge variety of applications, including the production of plastics, polymers, solvents, paints, textiles, agrochemicals, refrigerants, pharmaceuticals, construction materials, electronics, automotive parts, consumer products, to name only a few. The Covid-19 pandemic has significantly driven the demand for hygiene and medical products, such as disinfectants, sanitizers, cleaners, memory foams for hospital beds, oxygen masks, ventilator tubes, goggles, face shields and other protective equipment for front-line medical staff. Chlorine is indispensable in the production of these medical products. As such, the ubiquity of chlorine application has laid a strong commercial foundation for the chlorine market, though the volatility of this market is also widespread.
The traditional process of chlorine production involves the passing of an electric current through salt-water brine, which leads to the separation of chlorine, hydrogen gas, and sodium hydroxide (caustic soda). It is therefore a highly energy-intensive procedure, specifically with respect to electrical energy. In the present market environment, when energy prices skyrocketed, it inevitably raised the costs of chlorine and caustic soda production and had a ripple effect along the whole chlor-alkali network, so the global chlor-alkali producers worldwide had to deal with this factor. This occurred against the background of strong end-market demand for various chlorine-based products and continuous supply constraints.
Chlorine: structure of the global production by country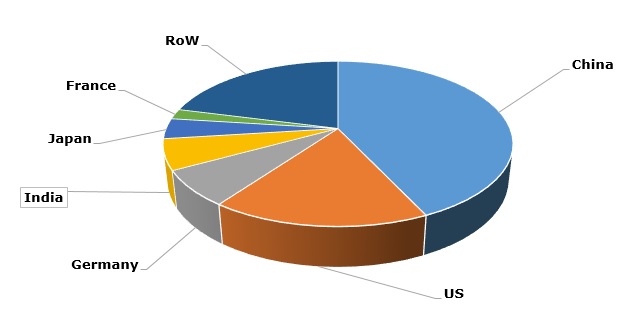 Key chlorine market players, such as US-based Olin Corporation, are rather optimistic regarding chlor-alkali business prospects (the US is the world's second-largest producer of chlorine). In Q3 2021, Olin's sales in the chlor-alkali segment exceeded $ 1 bn as compared to $755 mln during the same period a year earlier. This was attributed primarily to higher pricing. Olin expects excellent results in the chlor-alkali segment in Q4 2021 and during 2022. Olin Corporation operates the world's largest chlor-alkali production capacity after the company purchased chlor-alkali business from Dow, thus expanding its pre-purchase chlorine capacity. Olin has almost completed the transition of all its chlorine production facilities to use a more environmentally friendly membrane-cell process instead of the less advanced diaphragm-grade process. Olin plans to shut down the remaining diaphragm-grade chlor-alkali capacity in 2022.
Analogously, in Q3 2021, Westlake demonstrated excellent results in its Vinyls segment (chlorine production pertains to this segment). The rise in sales was linked to higher sales prices and integrated margins for caustic soda and chlorine. After the acquisition of Axiall Corp. (formerly Georgia Gulf Corporation, which purchased its chlor-alkali business from PPG Industries), Westlake became the third-largest chlor-alkali producer in North America and globally. This series of acquisition activities in relation to chlor-alkali production confirms the fact that companies, like Dow or PPG Industries, consider this business as too volatile and risky. Some of them have been trying to opt out of it for years. However, other companies, like Olin and Westlake, hold the opposite view and regard this business as a cornerstone of their operations.
More cutting-edge information on the global chlorine market can be found in the in-demand research report "Chlorine (CL): 2021 World Market Outlook and Forecast up to 2030".