Adipic acid (ADA) is a chemical precursor and the most important dicarboxylic acid from a commercial point of view. It is utilised in the production of key technical polymers, like polyamides, polyesters, and polyurethanes. These polymers act as building blocks to manufacture various commodities, including nylon-66/nylon-6 fibres, PVC plasticizers, coatings, and detergents, to name only a few. Country-wise, the market is dominated by China, which hosts such big players as Haili Group, Huafon Group, and Shenma Industrial Corp.
Adipic acid: structure of the global production by country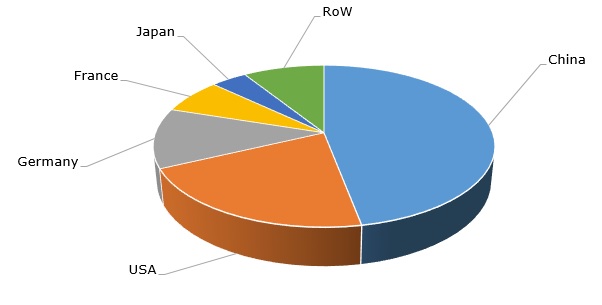 The bulk share of the adipic acid production volume is manufactured by catalytic oxidation of a mixture containing cyclohexanone and cyclohexanol (both are obtained from benzene). This creates a positive correlation between adipic acid prices and petrochemical feedstock costs. When the costs of petrochemical raw materials and energy significantly increased in 2021 and during the past months of 2022, the prices along the whole adipic acid production pathway, both upstream and downstream, followed the suit. For instance, DSM announced a price increase for polyamide 6 and 66 products in the EMEA region a year ago, while BASF did this for North America, effective at the beginning of March 2022. Disruption of global supply chains is another factor that has recently impacted the market for adipic acid and associated products by creating issues with product availability.
Apart from the petrochemical route, adipic acid production from renewable feedstock was pioneered by companies like Verdezyne, Celexion, BioAmber, Genomatica, and Rennovia. A more environmentally conscious method of adipic acid production is vital since its traditional petrochemical manufacture generates large amounts of nitrous oxide as a by-product. However, despite gaining momentum, bio-based economy development has encountered serious challenges. For instance, Verdezyne, which had been working on the manufacture of renewable chemicals, including bio-based adipic acid, was liquidated in 2018 on the verge of opening its first commercial facility in Malaysia after its main investor pulled out of bio-based industry business. Likewise, Rennovia stopped its operations in 2018 when the company was unable to raise sufficient financing to launch commercial bio-based production. Some companies in this segment started to seek partnerships with diversified global manufacturers. For example, in 2022, Genomatica and Asahi Kasei announced a strategic partnership to commercialize renewably sourced nylon 6,6 made from Genomatica's bio-based hexamethylenediamine. Environmental concerns have become a powerful trend when various producers of adipic acid and associated products started to put their keen efforts to reduce carbon footprint.
More information on the global adipic acid market development can be found in the in-demand research report "Adipic Acid (ADPA): 2022 World Market Outlook and Forecast up to 2031".