Feldspars belong to a group of naturally occurring aluminium tectosilicates with diverse specifications. Feldspars vary with respect to their content, impurities, physical characteristics, etc. For instance, the most common feldspar types are those containing combinations of calcium, potassium, and sodium, but some rare feldspars may include different elements in trace amounts: ammonium, barium, iron, lithium, rubidium, and strontium. Being one of the most abundant minerals in the Earth's crust, feldspars are characterized by the uneven spread of reserves and production facilities, as well as by a relatively large degree of monopolization at the level of many regional markets. Large feldspar reserves are located in Brazil, Czechia, Egypt, India, Iran, Poland, Portugal, and Turkey, while the key feldspar producers are Turkey, Italy, China, and Thailand.
Feldspar: structure of the global production by country, 2021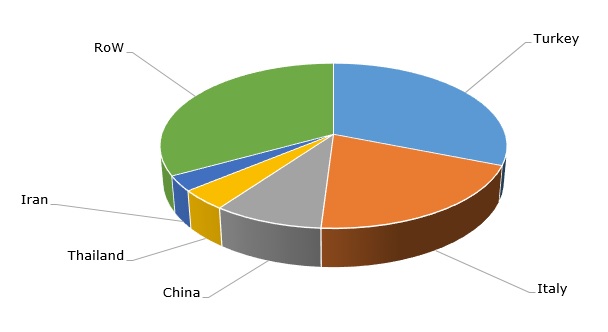 Feldspars are used in the following industries and for the production of the following commodities: the glassmaking and ceramic industries (incl. tiles and sanitary ware), food and beverages, fillers (incl. for paints, adhesives, plastics, and rubber), glass fibre insulation, coatings, extenders, and others. Unsurprisingly, the feldspar market is affected by how these consumption sectors behave, which often mirrors the macroeconomic situation. For instance, the macroeconomic recession of 2007-2009 adversely affected the European market for ceramic tiles, thus reducing demand for feldspar. After the recession was over, the production of ceramic tiles started to increase, driving feldspar consumption in Europe. Likewise, in 2021 and Q1 2022, most feldspar-consuming sectors began quick recovery when the Covid-19 pandemic started to recede. This required the need to ramp up feldspar production and supply, which was addressed by various companies. For instance, global material solutions company Sibelco commissioned an additional feldspar processing plant in Turkey to boost feldspar supply.
It is pertinent to mention that Europe's proven feldspar reserves account for over 3.3 million tonnes, and the European market is significantly dominated by Turkey. Corporate-wise, French multinational company Imerys, which is a leading European and global feldspar manufacturer, operates feldspar mines and processing plants in different locations: France, Germany, Portugal (processing plants), Spain (processing plants), Turkey, United States, India, and Thailand. Like before-alluded Sibelco, Imerys did well during the crisis caused by the Covid-19 pandemic by showing enhanced resilience and demonstrating social responsibility. The year 2021 witnessed a quick recovery of Imerys operations worldwide. This trend is likely to continue in 2022.
Innovation, as well as environmental and social sustainability, are central to the vision and strategy of multiple feldspar producers. All key feldspar manufacturers, like Sibelco, Minerali Industriali S.r.l., I-minerals Inc., Imerys, and others, align their corporate strategy with the sustainable development goals and realise various sustainability-oriented programmes, projects, and solutions. These are targeted at circular economy (e.g., glass recycling), innovative sustainable products (e.g., sustainable ceramics), increased use of clean energy, assistance to local communities, decreasing inequalities, and establishment of nearly zero-emission production facilities, to name only a few. Therefore, sustainability and ethical responsibility will be a megatrend for companies processing minerals, including feldspars.
More cutting-edge information on the global feldspar market can be found in the in-demand research study "Feldspar: 2022 World Market Review and Forecast to 2031".