Phthalic anhydride (PA) is a versatile chemical product manufactured either from orthoxylene (o-xylene or OX) or naphthalene. It is used as an intermediate to make phthalate plasticizers, polyester resins, polyols, alkyd resins, flame retardants, coatings, engineered plastics, insecticides and fungicides, pharmaceuticals, solvents, pigments, and a wide range of other commodities employed in various industries. The current global PA production capacity stands at 6 mln tonnes per year.
Using orthoxylene as a feedstock, the phthalic anhydride market trajectory is tightly coupled with the orthoxylene market behaviour. For instance, the Chinese PA market (the largest in the world) is currently characterised by tight orthoxylene supply and low inventories of this feedstock ahead of planned summer turnarounds. This trend is paralleled by weaker demand for plasticizers, which adversely affects PA demand, though PA prices in the region, buoyed by high OX prices, demonstrate an upward trend and continue to stay well above USD 1100 per tonne (CFR Asia SE).
Phthalic anhydride: structure of the global production by country, 2021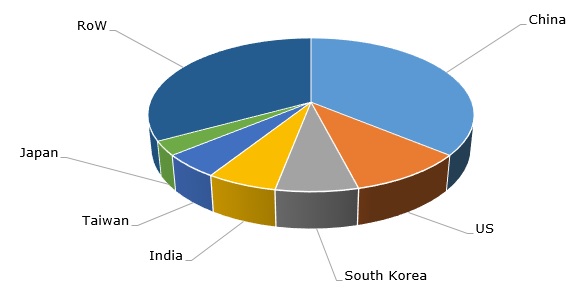 In the US, the dynamics are slightly different as the PA-consuming sectors show strong growth and high demand for PA. Unsurprisingly, key PA manufacturers, like Koppers Holdings Inc. and Stepan, exhibited robust performance during Q1 2022 as demand for PA by the US end-markets continued to trend ahead of raw material cost increases. The European PA market dynamics are largely influenced by high crude oil costs and the ongoing Russia-Ukraine conflict, though downstream demand across various PA-involving value chains remains healthy.
Despite the inevitable phthalic anhydride market dynamism, often characterised by instability and reduced profit margins, the prospects of this market look promising. The latter assumption is confirmed by the fact that various companies in the sector have been realising their production capacity expansion plans. For example, Thirumalai Chemicals Ltd. (India) plans to build a new 90k mty PA production unit in Dahej (Gujarat state) by 2024. Currently, the company operates the following PA production capacities: 144k mty in Ranipet (Tamil Nadu state) and recently launched 24k mty in afore-mentioned Dahej. This decision to expand is aimed to address the PA shortage in the Asian market. However, the global rate of phthalic anhydride production capacity expansion is very modest. This trend might be viewed as a positive development, which prevents overproduction.
More cutting-edge information on the global phthalic anhydride (PA) market can be found in the in-demand research report "Phthalic Anhydride (PA): 2022 World Market Outlook and Forecast up to 2031".