Styrene is an organic hydrocarbon and an aromatic monomer manufactured from petroleum feedstock, specifically ethylbenzene, via various technological pathways, namely ethylbenzene dehydrogenation, oxidation, oxidative conversion, or side-chain chlorination. Ethylbenzene in turn can be produced by liquid-phase alkylation of benzene with ethylene.
Lummus Technology in partnership with UOP LLC has developed one of the most robust and efficient technologies to manufacture styrene monomer. Sustainability, net zero approaches, and circularity now stand at the forefront of technologies associated with manufacturing styrene and its derivatives. For example, LANXESS and TotalEnergies are engaged in the production of bio-circular styrene. This styrene type is derived from a tree resin and a by-product of pulp production. Likewise, Asahi Kasei manufactures and markets sustainable solution-polymerized styrene-butadiene rubber (S-SBR), produced with the help of sustainable butadiene. Other key styrene producers, like Ineos Styrosolution or Americas Styrenics (AmSty), follow suit with their range of innovative and sustainable products based on styrene monomer.
Styrene is also a versatile chemical block and an intermediate commodity, noted for its vital role in producing most essential and ubiquitous polymers, such as polystyrene, acrylonitrile-butadiene-styrene (ABS), styrene-acrylonitrile (SAN), styrene-butadiene latex, and styrene-butadiene rubber. These polymers are of almost universal application in a vast spectrum of industrial and consumer sectors. According to LyondellBasell data, about 20% of styrene is used for plastic packaging applications.
As of 2022, global styrene production capacity and output amounted to 42 and 30 million tonnes, respectively. China remains the world's leader in styrene production. This country has been steadily investing in developing styrene production capacity for years.
Top five styrene-manufacturing countries by production, 2022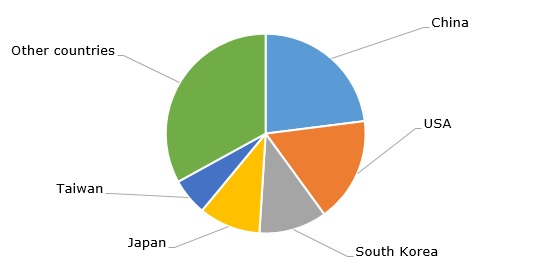 The global styrene market is increasingly dependent on the current turbulent macroeconomic environment, which is tainted by weak demand, tightened supply, and economic slowdown in various parts of the world, especially in Europe and China. Under this environment, Europe occurred in a most disadvantaged position with its exorbitant energy/labour costs, high inflation, bearish sentiment, poor profit margins, and stringent environmental regulation. The latter affects the competitive edge of the European styrene producers, preoccupied with environmental concerns. This harsh reality makes styrene producers, predominantly in Europe, to reduce capacity utilization rates or even mull over the possibility of restructuring their styrene businesses. Such restructuring has a cyclical nature, and the previous cycle occurred about 10 years ago when several key styrene producers (e.g. Dow Chemical Company, Total Petrochemicals, or Asahi Kasei) decided to rescale, rethink, consolidate, or restructure their styrene businesses, partially to opt out from basic chemicals. Despite this unpredictable macroeconomic situation of 2023, styrene remains one of the most essential materials and an indispensable building block for making a myriad of important products used in everyday life.
Find a detailed analysis of the global styrene market in the in-demand research study "Styrene: 2023 World Market Outlook and Forecast up to 2032".