Sulfur: 2023 World Market Review and Forecast to 2032
About

Table of Contents

List of Tables

Country Reports

Help & Support
About Sulfur Market
the most of sulfur is converted to sulfuric acid, the main application of which is in phosphate fertilizers production
sulfur is processed from fossil fuels; the major sources are crude oil, natural gas, sulfide ores
world production and consumption has been gradually increasing
a bit more than a half of world supply is provided by 5 countries - China, USA, Russia, Canada and Saudi Arabia
global production is expected to grow with the highest CAGR demonstrated by Middle East
world sulfur consumption will also increase
Sulfur Market Review is a source for detailed information on the market situation. The report contains descriptive and analytical parts, enriched with tables and figures for national and global markets. Market forecasts for the next ten years complete the report.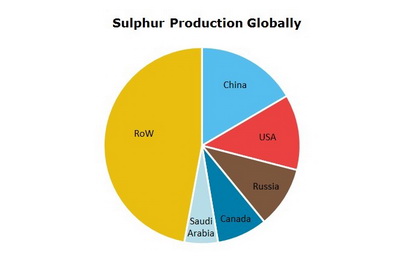 Scope
Geographically sulfur market report covers:
Timeframe of sulfur market report:
Present situation
Historical background
Ten-year forecast
Global sulfur market analysis includes:
Production and consumption
Prices
10-year market forecast
Projects
Downstream markets
A region/country market overview comprises:
Production/consumption balance
Export and import
Manufacturers
Reasons to Buy
The immediate benefits of buying this report are as follows:
Detailed statistics give clear picture of current market situation;
Extensive price charts draw particular pricing trends in the recent years;
Production/consumption charts backed with export/import tables outline country's market position and value;
Search for partners and suppliers is facilitated;
Distinct market forecast aids the decision-making process.
*Please note that "Sulfur: 2023 World Market Review and Forecast" is a half ready publication and contents are subject to changes and additions. We have all data necessary for report preparation but it needs to be retrieved from our databases, organized in a report, updated with the latest information and thus the complete study will be presented. This process takes 4-5 business days after the order is placed. Thus, our clients always obtain a revised and updated version of each report. Please note that we do not charge for an updating procedure.
DISCLAIMER
RESEARCH METHODOLOGY
1. WORLD SULFUR MARKET
1.1. Commodity overview
Description
Application spheres
Worldwide resources
1.2. Sulfur market in 2017-2022
Production
Major manufacturers' profiles
Demand, consumption structure
1.3. Sulfur prices
2. EUROPEAN MARKET OF SULFUR
Here and after a country sulfur market analysis covers the following (depending on market):
– production in 2017-2022
– consumption in 2017-2022
– export and import of sulfur
2.1. Germany
2.2. Finland
2.3. France
2.4. Italy
2.5. Poland
3. CIS COUNTRIES MARKET OF SULFUR
3.1. Russia
3.2. Kazakhstan
4. ASIA PACIFIC MARKET OF SULFUR
4.1. Australia
4.2. China
4.3. Japan
4.4. South Korea
5. NORTH AMERICAN MARKET OF SULFUR
5.1. Canada
5.2. USA
6. LATIN AMERICAN MARKET OF SULFUR
6.1. Chile
6.2. Mexico
6.3. Venezuela
7. MIDDLE EAST AND AFRICAN MARKET OF SULFUR
7.1. Iran
7.2. Kuwait
7.3. Qatar
7.4. Saudi Arabia
7.5. United Arab Emirates
8. SULFUR MARKET FORECAST TO 2032
8.1. Sulfur market trends up to 2032
8.2. Supply forecast, projects
8.3. Demand forecast, downstream markets prospects
World production
World production by country
Sulfur supply/demand in Germany
Trade of sulfur in Germany
Sulfur supply/demand in Finland
Trade in Finland
Supply/demand in France
Trade of sulfur in France
Supply/demand in Italy
Trade of sulfur in Italy
Supply/demand in Poland
Trade of mineral in Poland
Supply/demand in Russia
Trade of sulfur in Russia
Supply/demand in Kazakhstan
Trade in Kazakhstan
Supply/demand in Australia
Trade in Australia
Supply/demand in China
Trade in China
Supply/demand in Iran
Trade in Iran
Supply/demand in Japan
Trade of sulfur in Japan
Supply/demand in South Korea
Trade of mineral in South Korea
Supply/demand in Canada
Trade in Canada
Supply/demand in USA
Trade in USA
Supply/demand in Chile
Trade in Chile
Supply/demand in Mexico
Trade in Mexico
Supply/demand in Venezuela
Trade in Venezuela
Supply/demand in Kuwait
Trade in Kuwait
Supply/demand in Qatar
Trade of mineral in Qatar
Supply/demand in Saudi Arabia
Trade in Saudi Arabia
Supply/demand in UAE
Trade in UAE
Sulfur market forecast up to 2032
Detailed analysis of sulfur market in a country is available covering data on capacity (by plant), production, consumption, trade, prices and market forecast.
Please select a country from the list below (if you do not find a market report you would be interested in, please contact a member of our team - [email protected]).
Ask a question or Order by email
More Reports
| Title | Date | Pages | Price |
| --- | --- | --- | --- |
| | Nov, 2023 | 160 | US$ 3,300.00 |
Our Partners & Customers