Vinyl Acetate Monomer (VAM) Derivatives Global Market Outlook 2023
About

Table of Contents

Help & Support
Polyvinyl acetate (PVA) is the largest downstream market for vinyl acetate monomer (VAM). PVA is mostly used in production of adhesives and coatings – about 80% of total. Other markets consuming PVA are textiles, paper, construction. PVA is mostly represented in the form of emulsions in adhesives market.
Global PVA market will increase at CAGR of 3.5-4%, the largest consuming region - Asia Pacific – will continue to lead the market and demonstrate an average 5% growth, Europe and North America will go behind with 3% increase in each region. Adhesives and coatings will remain the main application areas.
Polyvinyl alcohol (PVOH) industry is the second largest VAM downstream market. PVA films are widely used across various industries. Among the most important applications are water soluble packaging (in particular, PVA is in favor as it meets green packaging principles), polarizer applications (LCD panels which are of high demand), etc.
Asia Pacific is the largest consumer followed by North America and Europe. Overall, the market will witness positive development with good growth rates in all downstream markets. New capacity introductions are expected to meet the rising demand.
One more important market for VAM is ethylene vinyl acetate. It is extensively used in the production of foams and films; besides EVA can be used in the construction of solar voltaic panels. Top 5 ethylene vinyl acetate producing countries included USA, China, South Korea, Taiwan and Japan.
World ethylene vinyl acetate is foreseen to grow at 4%. As in many markets, Asia Pacific is and will be the major consumer. Among application spheres solar power industry is expected to drive the growth of EVA market.
One of the fastest growing applications of VAM is ethylene vinyl alcohol (EVOH). Due to ability to serve as oxygen barrier EVOH is widely used for production of containers for food and other sectors. The market is characterized by a relatively small number of manufacturers.
Expected market growth rates are about 3%. Increasing use of EVOH in packaging is foreseen as the material can serve as substitute for other oxygen barrier materials that deal environmental concerns.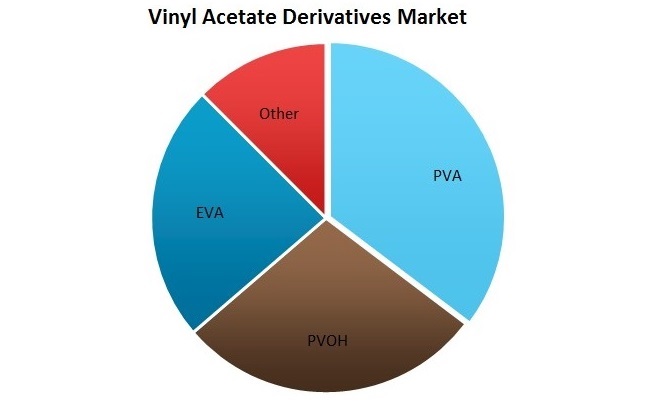 Vinyl Acetate Monomer (VAM) Derivatives Global Market Outlook 2023 focuses on world market and includes information on capacity, market trends, trade, prices, projects and forecast. It also underlines key companies in the industry and covers recent market news.
The report gives all-encompassing picture and provides the reader with complete understanding of past, current and future market situation. Numerous information channels are reviewed and key conclusions and recommendations are disclosed.
*Please note that "Vinyl Acetate Monomer (VAM) Derivatives Global Market Outlook 2023″ is a half ready publication and contents are subject to changes and additions. We have all data necessary for report preparation but it needs to be retrieved from our databases, organized in a report, updated with the latest information and thus the complete study will be presented. This process takes 5-7 business days after the order is placed. Thus, our clients always obtain a revised and updated version of each report. Please note that we do not charge for an updating procedure.
1. POLYVINYL ACETATE (PVA) GLOBAL MARKET
1.1. World polyvinyl acetate capacity
– Capacity broken down by region
– Manufacturers and their capacity
1.2. Polyvinyl acetate production
– Global output dynamics
– Production by region
1.3. Polyvinyl acetate consumption in the world and regions
1.4. Polyvinyl acetate prices in the world market
1.5. Polyvinyl acetate global trade
– World trade dynamics
– Export and import flows in regions
1.6. Key companies in global polyvinyl acetate market
1.7. Polyvinyl acetate market prospects
2. POLYVINYL ALCOHOL (PVOH) GLOBAL MARKET
2.1. World polyvinyl alcohol capacity
– Capacity broken down by region
– Manufacturers and their capacity by plant
2.2. World polyvinyl alcohol production
– Global output dynamics
– Production by region
– Production by country
2.3. Polyvinyl alcohol consumption
2.4. Polyvinyl alcohol global trade
– World trade dynamics
– Export and import flows in regions
2.5. Polyvinyl alcohol prices in the world market
2.6. Key companies in global polyvinyl alcohol market
2.7. Polyvinyl alcohol market prospects
3. ETHYLENE VINYL ACETATE (EVA) GLOBAL MARKET
3.1. World ethylene vinyl acetate capacity
– Capacity broken down by region
– Manufacturers and their capacity
3.2. World ethylene vinyl acetate production
– Global output dynamics
– Production by region
3.3. Ethylene vinyl acetate consumption
3.4. Ethylene vinyl acetate global trade
– World trade dynamics
– Export and import flows in regions
3.5. Ethylene vinyl acetate prices in the world market
3.6. Key companies in global polyvinyl acetate
3.7. Polyvinyl acetate market prospects
4. ETHYLENE VINYL ALCOHOL (EVOH) GLOBAL MARKET
4.1. Ethylene vinyl alcohol production, manufacturers and their capacity
4.2. Ethylene vinyl alcohol market trends, demand
4.3. Ethylene vinyl alcohol prices
4.4. Ethylene vinyl alcohol market prospects
Ask a question or Order by email
Our Partners & Customers