The global phenol output rates declined during the recession, but they returned to normal in 2010. From 2010 to 2012, the world phenol production registered positive annual growth (nearly 2.5%), increasing from 8.34 million tonnes in 2010 to more than 8.9 million tonnes in 2012. APAC was the world's unrivalled leader in phenol production, accounting for over 41% (above 3.7 million tonnes) of the overall output volume. China, the USA, Japan, Taiwan and South Korea were the top five phenol manufacturing countries in 2012 with a combined production of more than 5.5 million tonnes in volume.
Global phenol production broken down by country, 2012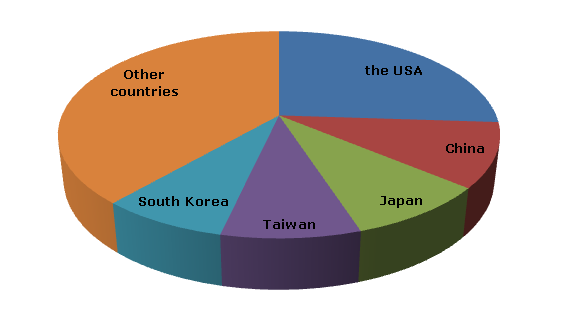 The major companies operating in the world phenol market include, but are not limited to Ineos Phenol, Mitsui Chemicals, SINOPEC, Cepsa Quimica, Shell Chemical, LG Chem, Honeywell Resins & Chemicals, Versalis S.p.A., Formosa Chemicals and Fibre Corp, Kumho P&B Chemicals, and Sabic Innovative Plastics.
In 2012, global annual production capacity of phenol was estimated at over 11.5 million tonnes. In the same year, APAC held over 41% of the world estimated capacity. It was followed by Europe and North America.
Phenol capacity broken down by region, 2012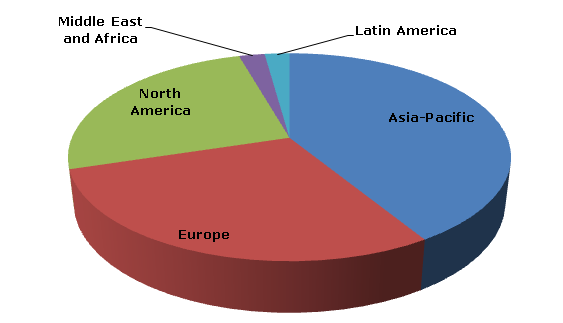 During 2010-2012, the world phenol consumption followed an upward trend, and in 2012, it surpassed the 8.9 million tonnes mark. In 2012, APAC was the dominant phenol consumer, accounting for over 46% of the global phenol consumption in volume terms. In the same year, the Bisphenol A industry was the major phenol end-use sector. The global phenol foreign trade exceeded USD 3.6 billion in 2012. Europe was the leading phenol exporter and importer.
The global phenol market is poised to witness positive growth in the upcoming years, with numerous capacity additions scheduled mainly in the APAC region. The world phenol supply is expected to go beyond the 10.7 million tonnes mark in 2016.
More information on the phenol market can be found in the report "Phenol 2014 World Market Outlook and Forecast up to 2018".